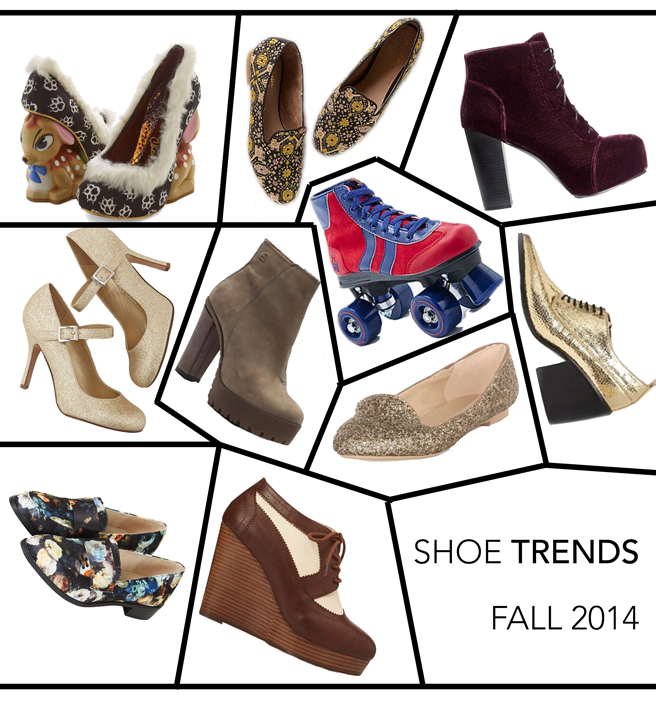 What do girls do when they have a morning off? Well, this girl apparently spends hours googling for new shoes that she doesn't need!
Bad news for me, because now I want them all, but good news for you! Because I selected a couple of pretty good ones, if I may say so myself!
I found out that despite the weather, fall is my favorite time of the year, because I happen to have a love for coats and shoes. This fall, new trends are on it's way and I selected a few of my favorites:
Platforms
Gold
Prints
Weird and extremely fun shoes! 
About the last category: I love how you seem to still have strict seasonal trends, like leather or wool(for fall/winter). But that nowadays everything that doesn't fit into those categories is also aloud to be worn. You may just call it self-expression and you are instantly cool and trendy without wearing what the magazines (or blogs) tell you to! 
So please, read this post but don't pay to much attention to having to wear or follow these trends. I encourage you to see it as a guideline to finding your own style!
PLATFORM IS THE PRETTIEST

Shoe nr. 1:Where to find your best affordable platform shoes? At the Dutch

Scapino

of course! 
And for all of you that really need to visit Holland but don't have the time? Check outh these online beauties:
GOLD
IS FOR GIRLS

Shoe nr. 1: Looking for some very affordable gold pumps? Try Modcloth!

Not the heels kinda girl? Try these stores out:
Shoe nr. 2: New Look
Shoe nr. 3:Asos
WARM PRINTS

Shoe nr. 1: My favorite kind? Printed shoes! I am in love with these boots from Bait Footwear! They are a little pricey for my budget right now, but I just had to mention them:)

Shoe nr. 2:Anthropologie
Shoe nr. 3:Topshop 
THE ODD BUT COOL ONES

Shoe nr. 1: Dare to go a bit bolder? Than it's your season! I envy those that dare to walk the walk in these bambi shoes from Modcloth! (Also pretty pricey, but I consider these a collectors item;))

Shoe nr. 2: Rollerblades count as shoes right?! From Urbanoutfitters
Shoe nr. 3: Heel-less shoes, what else can I say! For less than 10 dollars it's worth trying out! 10 Dollar Mall