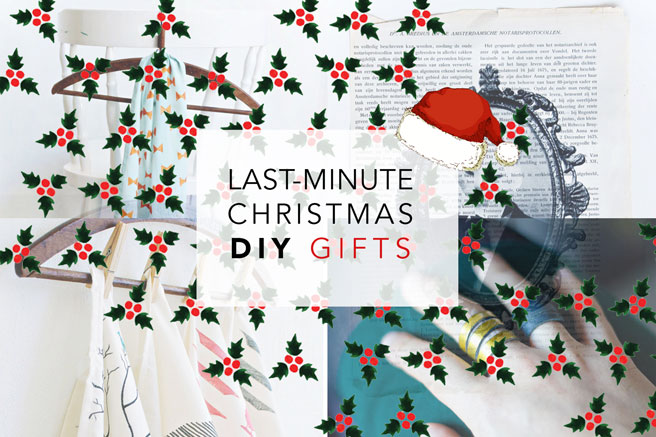 Almost Christmas Day and no gift yet. Stores are all crazy at this time of the year and who would bother to go outside in the cold anyway?
Perfect solution?: Do-It-Yourself this year!
I browsed through my DIY archive and found the perfect last minute gift ideas. They are all perfectly easy to personalize to make any gift more special. 
All DIY's will take less than an hour* to make and you are guaranteed to be the best gift-giver this year! 
**I already mentioned the supplies in this post to save you even more time:)
Did I convince you yet? Go get crafty!
Tea Towels
Surprise everyone with these artsy personalized tea towels! Make them from scratch or draw your new art onto some pre-made towels. 
Tea towels (or fabric to make them) | Fabric markers | Iron
Fabric Stamped Scarfs
Bows, initials, hearts, you name it and it can be printed onto fabric with this super easy quick technique!
Scarf | Fabric paint | Eraser | knife or Scissors | Iron
Leather Rings
Comfy and modern, these rings will look great on everyone and I made them in less than 10 minutes! Use nail polish  if you don't have any nice colored leather laying around, to personalize them.
Leather strips | twine | Something to make a hole | (optional) Nail polish
Bookprint Art
Have a nice image on your computer that would be perfect as a gift? Make it even more special by printing it onto a vintage looking piece of paper. 
Piece of old paper | Printer | Painters tape