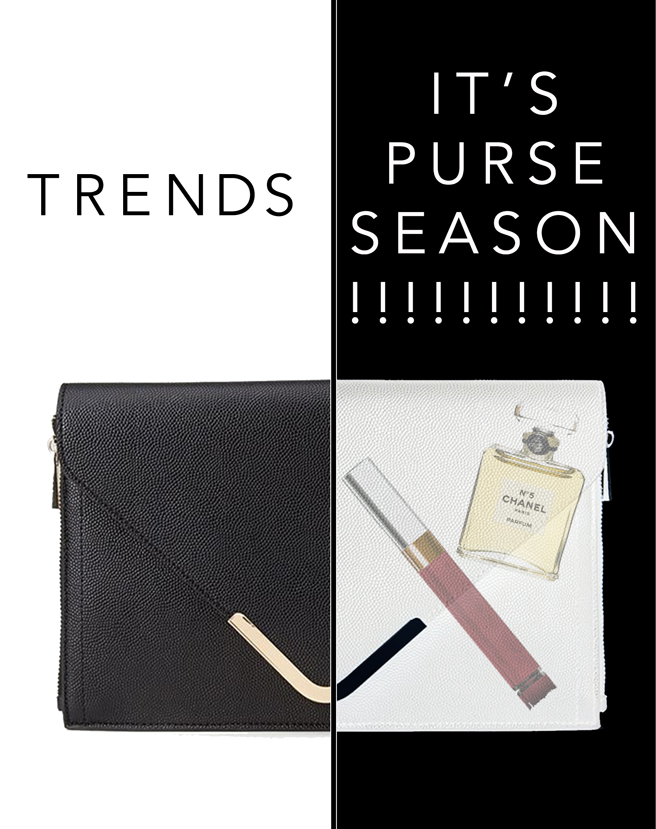 Dinners, parties, celebrations and many more occasions are on it's way this season! And that means that it's time to look for the perfect purse to match all of your festive outfits!
I must admit that I am one of those people that carries a big bag with me all the time. And my new resolution is that whenever I go somewhere fancy I am not aloud to bring things that I won't use anyway. So I cleaned out all of my bags and found the biggest collection of "just in case" items, like: bandages, safety pins, needle and threat, pencils, aspirine, a million red lipsticks, and many many more things. 
I think I can start my own pharmacy right now with a specialty in bandages and lipstick:)
But it did help! Because believe it or not, my bag is so much lighter right now and I don't have to look through piles of old stuff before I finally find what I was looking for.
Could it be that I am ready for the next step? Clutches and small purses!
Yes! I went straight from cleaning out my bags to online shopping and found the cutest collection of purse trends! 
Here's my inspiration, have fun! Oh, and yes they are all less than 20 euros!
CRAZY IS THE NEW COOL

Purse nr. 1: Crazy is probably the best way to describe a fur ball as a purse. But you will definitely be the most original girl in the room;) found at Forever21
Not crazy enough? Try a milk carton purse, or a yummy donut purse!
HAPPY AND BOLD

Purse nr. 1: Go retro with a big red velvet bow purse from Pepaloves
Or go happy fancy with a floral print!
CHIC IS THE WORD

Purse nr. 1:You can't go wrong with these beauties! Go fancy with a black purse and small details. You can go girly with this kitty from H&M. 
Or more sophisticated with these two brilliant expensive looking must haves:
DIY YOUR PURSE OFF!

Purse nr. 1:Still no luck finding your style? Than go DIY-style! Make your own cute purse with these easy Tutorials! How about a personalized clutch from A Beautiful Mess! 
Or dare to go bolder with these two easy projects!
Purse nr. 3:

 

A Pair And A Spair
Whichever one you choose to buy or make, I am sure that you will be the prettiest anyway! Have a lovely festive season everyone!