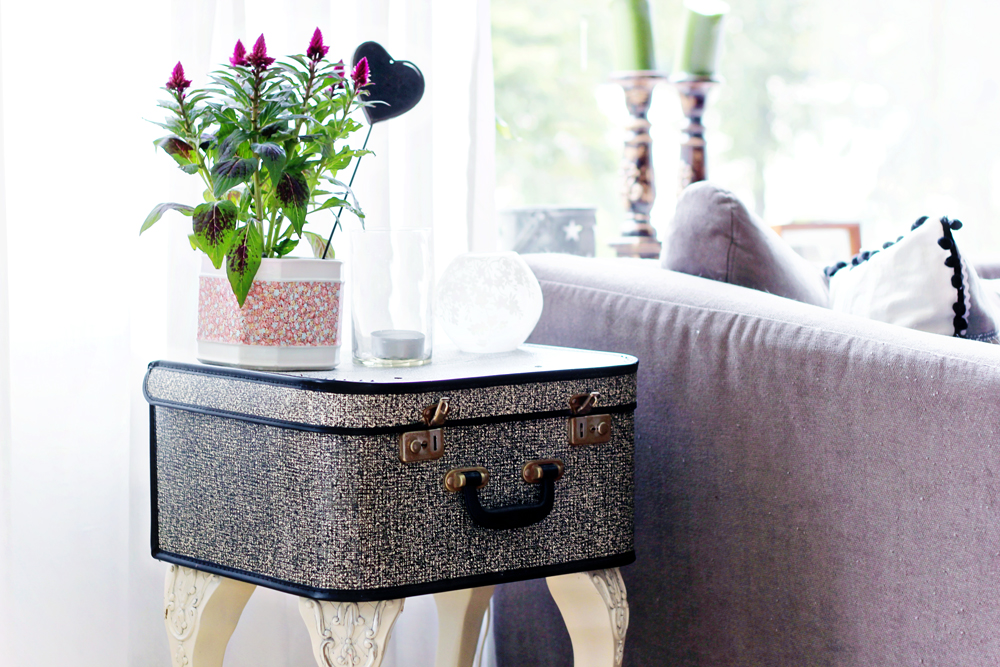 I still had this suitcase that belonged to an old sewing machine and never really knew what to do with it, until I was in a thrift store and noticed these beautiful wooden table legs. I figured that they would match perfectly. So I decided to make a DIY about it and share it with you!
The suitcase and the table legs where both pretty old and especially the legs where damaged, so I decided to paint them. I choose an off-white color to match it with the rest of my furniture. You can of course choose not to paint them, I think it all depends on you're own taste and the look of the suitcase you have.
-Spray paint the table legs to make sure the paint will come on evenly. 
-Draw on the bottom of the suitcase where you want the legs to be positioned. 
-Cut out small parts in the bottom of the suitcase in the size of the top of the table legs. ( Be very precise about where to cut the parts, because this is where you will attach the legs later on!)
 This will make sure that the ugly top part isn't visible
, but actually hidden inside the suitcase
.
 If you're table legs don't have an extra top part like mine, then you can skip this step.
 -Put some screws in from the inside of the suitcase to attach them.