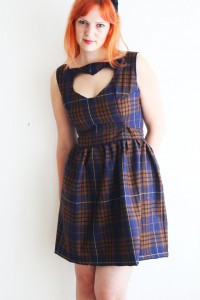 I finished my dress! I am very proud of it and can't wait to wear it on a special occasion. 
I really wanted to put a lot of effort into making something for this challenge. I normally up cycle my current wardrobe and never really make anything from scratch. But this was the perfect opportunity for me to make my dream dress.
I was a little bit inspired by the 50s vogue dresses and I watched a lot of Mad Men (for all of you Mad Men fans, can't you just see Peggy wearing a fabric pattern like this?!). I still wanted to give it a little edge and that is how I came up with the hart shape. You normally see this on the back of dresses, but I wanted to try something new and different.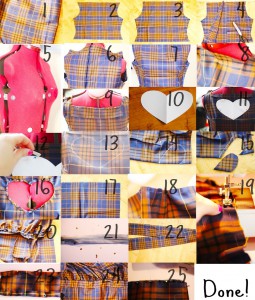 Besides wanting to make my dream dress, I also wanted to share the process with you! I didn't use any patterns and probably didn't do it the 'normal' way, but I managed and want to give you the opportunity to make you're own heart dress.
1. Pick a fabric, I used about 2,5 by 2 meters. It all depends on how long you want you're skirt to be and what dress size you are.
2. Cut out this shape twice, I just put a top(non stretch) over the fabric and cut round it.
3. Pin the sides and sew them together.
4. Cut the back right threw the middle.
5. Get a mannequin that is about you're size. If you don't have one you will have to put the piece on a couple of times to see if it fits alright. It will be a little bit more work, but it's doable.
6. Pin the back together temporarily, and pin the shoulders parts.
7. This is a difficult part: Find the extra fabric under the breast area and pin it so it will be tight underneath. Do the same to the sides like in the picture. Stitch everything together.
8. Decide how broad you want you're shoulder straps to be and cut 3 cm downwards. (see picture) Do tis to the front and back. 
9. Pin the flaps down and sew it together.
10. Cut out a hart out of paper.
11. Pin the hart to the dress where you want it to be positioned.
12. Get some chalk and draw around the paper onto the fabric.
13. This will be the size the hart will be.
14. Fold the fabric trough the middle and pin it so the hart is precisely through the middle.
15. Cut the hart out with 1 cm left all around.
16. Pin the ruffly parts and stitch them.
The top part is done! Take a cup of tea and relax, because you are almost done;)
17. Get the fabric for the bottom part.
18. Take a needle and threat and sew big stitches along the top of the fabric. Pull it tight enough until it is you're waist size
19. Sew it, to make sure it will stay like that.
20. Sew the top part and the bottom part of you're dress together.
21. Get you're zipper ready.
22. Take a long small piece of fabric.
23. Fold the bottom and top part inside out and stitch it.
24. Attach it onto the waist part of the dress with you're sewing machine.
25. Put the zipper in. And fold the bottom part of you're dress inside and stitch that.
I know it is a long process and I hope the tutorial is understandable. I just tried things as I went along, so if there is anything that needs more explaining just let me know!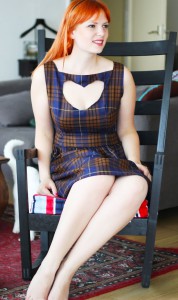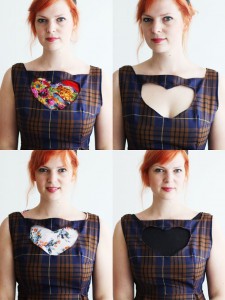 The heart shape can be a bit revealing, and although it can be sexy, you might not want to go grocery shopping that way;) That is why I tried shirts in different patterns to wear underneath it. This way the dress will get a different look every time!