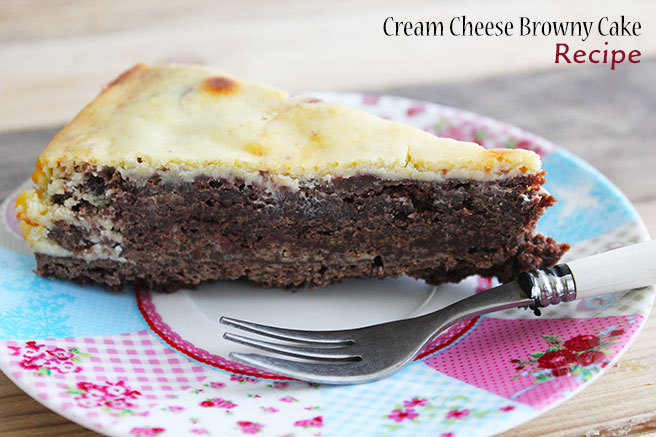 What a better combo then Cream cheese and Brownies?! 
I was in the mood for some chocolaty brownies, but wanted to add a different taste to it and decided to try out the cream cheese/brownie mixture.
It may not be the prettiest cake in the world, but it sure was tasty!
– 225 grams of dark chocolate
– 2 teaspoons of vanilla extract
For the Cream Cheese Batter:
1/2 teaspoon of vanilla extract
– Preheat the oven to 175 degrees, and prepare a 10 inch springform pan by buttering it.
– Fill a big saucepan with hot water and place it over a high heat.
– Take a small bowl or a small saucepan and place it in the hot water. Put the chocolate and butter in the smaller bowl and stir while it's melting.
– Remove the bowl when the chocolate and butter combo has melted. Add the eggs and vanilla extract one by one, while stirring the mixture. 
– When the chocolate mixture is completely smooth, add all the dry ingredients and mix them together.
– Now let's start making the cream cheese batter: Put the cream cheese, sugar, egg yolk and vanilla extract in a bowl and mix until it's a smooth batter.
– Take your springform pan and pour half of the brownie batter in the pan and divide it evenly. Place half of the cream cheese batter over the smooth brownie layer in the springform. Repeat this with the other halves.
– Place the pan in the oven for about 45 minutes. The inside should be a bit moist, but not liquid. 
– Let the brownies cool down before you eat them.