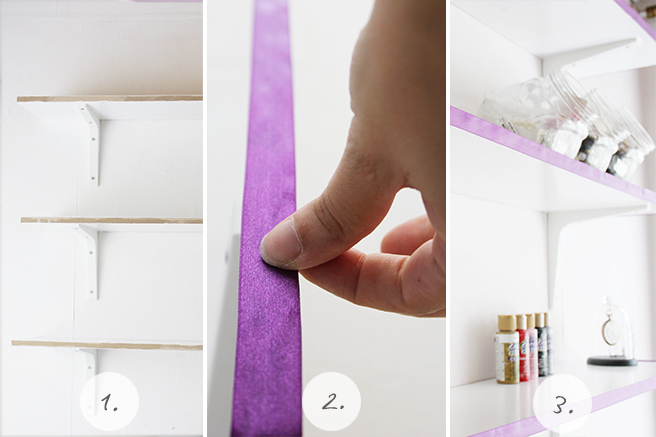 As you may have noticed from my

Unclutter post

the other day, I am in a bit of a cleanup vibe ever since I came back from New York. 
And my worst and messiest room: my workspace, kept bugging me this entire time.
Because it is very hard to make a room look tidy when it has so much stuff in it. So I decided to paint everything white to have a nice clean base. And that helped a LOT! Everything looked so much better and cleaner than before. 
But the new problem was that the room had gotten pretty boring.. And that is when I came up with this DIY. I just gave small items color accents, and tried to use craft materials for it!
So here is a very easy and extremely fast way to restyle those boring whites shelves!
 DIY: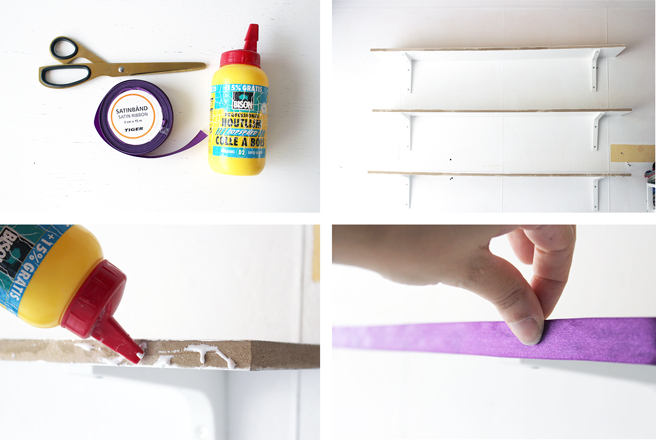 1. Take some shelfs (they can be poorly painted like mine :)
2. Supplies: Ribbon | Wood glue (or any other strong glue that dries clear) | Scissors
3. Apply the glue onto the wooden shelf.
4. Carefully place the ribbon on the glued sides of the shelf, and press to secure. Let it dry, before you place your items back on the shelf.