Wait, what? Another cushion cover tutorial? Didn't I just make one very recently? Well, yes! But my two lovely cute little monsters also liked my cushion covers, or let's just say: liked them a lot! And this is what has been a daily activity for them: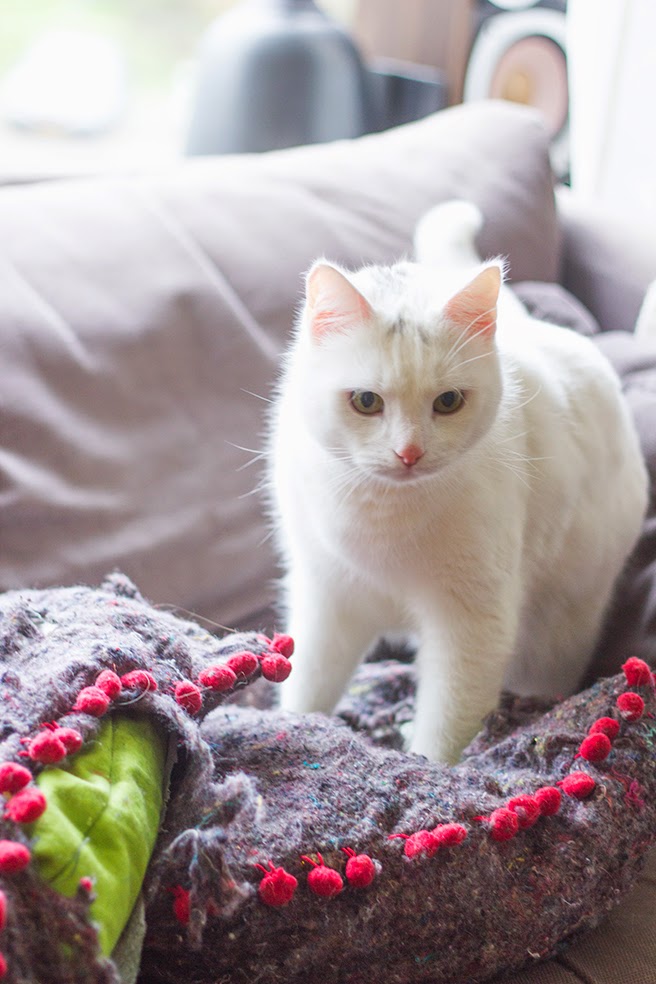 That's right, I caught them, cuddling away on the covers with their 

knifelike

 cute little nails and

ruining

enthusiastic love for my time-consuming projects.
But on the other hand, it did gave me an excuse to start a project involving my new loved trend: Brushstroke Prints! And I just so happened to have old white curtains laying around and figured that I would upcycle those for this project too! 
New to the Brushstroke print trend? I wrote about it a few days ago. It involves a lot of artsy looking items covered in brushstrokes. It varies from well placed strokes, to 'I have been throwing buckets of paint onto the fabric' kind of prints. And I just love it!
So for my new cushion covers, I decided to mix some paints into soft colors and used different sized brushes to create varying prints.
1. DIY Supplies: Fabric (I used old Ikea curtains) | Acrylic Paints | paintbrush | Bowl(s) to mix the paints | Scissors | Sewing Machine (needle & tread) | Old Cushion 
2. Cut your fabric into three pieces. 
– one piece in the cushion size + 2 cm all around.
– 2 pieces in 2/3 the cushion size + 2cm all around.
3. If your fabric frays 
a lot, than you can sew the edge to make it easier to paint.
4. Mix your paints until you get the right color. The fabric will get pretty stiff because of the paint, and adding bit of water will make the colors less bright (which is a style I went for) and it also makes the fabric a little less hard once dried.
5. Go crazy! Splot, brush, wipe, away and make your own piece of art!
6. After the paint dries 
Place the smaller pieces onto the big piece, make sure that the right sides are facing inwards.
7. Sew the parts together.