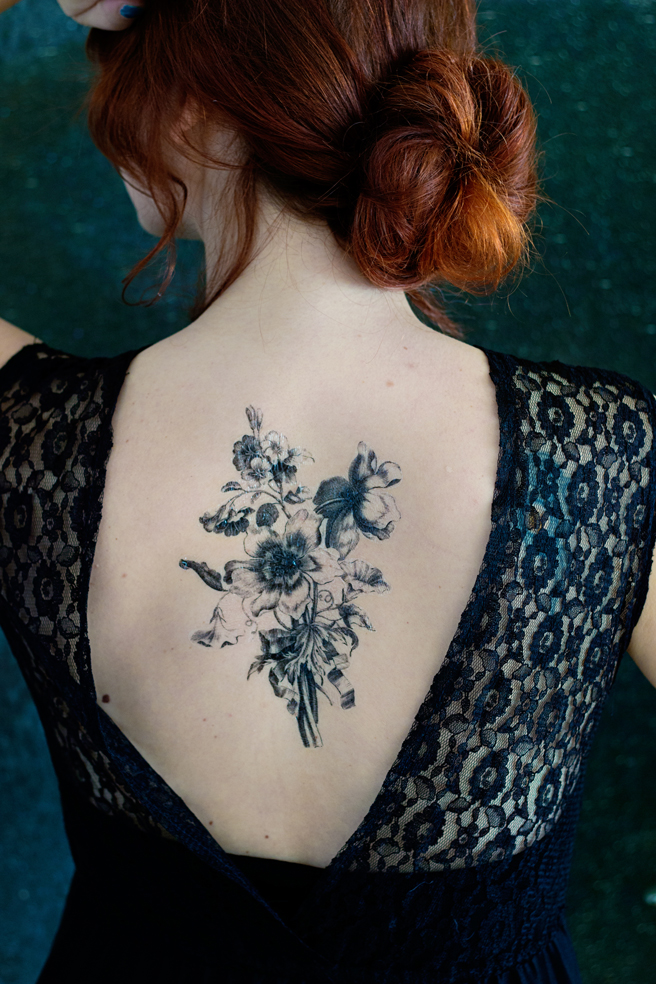 I guess I can safely say that this is my most favorite DIY so far! I have always loved tattoos especially the girly ones, and I do have a few (small ones). But it is still a very big step to get a (new) tattoo. So how excited was I, when I discovered that you can design and print your own temporary temporary tattoo!
You can just change your look in minutes, and go back to your old self the next day!
I have been brainstorming so much on what I would like to have as a temporary tattoo, to show you how great this technique is. And I decided on using my most favorite inspirational archive: the Rijksmuseum website. I already used this source for my

shoe restyle DIY

a few months back, and I felt it would be perfect for this project as well. the Rijksmuseum is a museum in Amsterdam that also lets you explore their archives online and you can download the high ress images for free!
I went for a beautiful bouquet that I applied on my back. What kind of temporary tattoo would you choose and where would you wear it? Let me know!
How to make your own temporary tattoo:
Tattoo Transfer Paper Pack (I bought mine at

paperspecials

) | Laser printer | Scissors
1. Decide your tattoo art and print it according to the instructions.
2. Apply the sticky transparent sheet over the printed images according to the paper instructions. If you still have some airbubbles between the sheets, use your finger or a small plastic card to rub them away.
3. Cut the shapes out of the paper.
4. Remove the top sticky part and apply the tattoo onto your body. Apply some water on the white surface until the hole surface is damp. Remove the white sheet.
** My experience is that the temporary tattoo will stay on for quite a while, I showered with it (not rubbing on it) and it stayed on very well for about 5 days