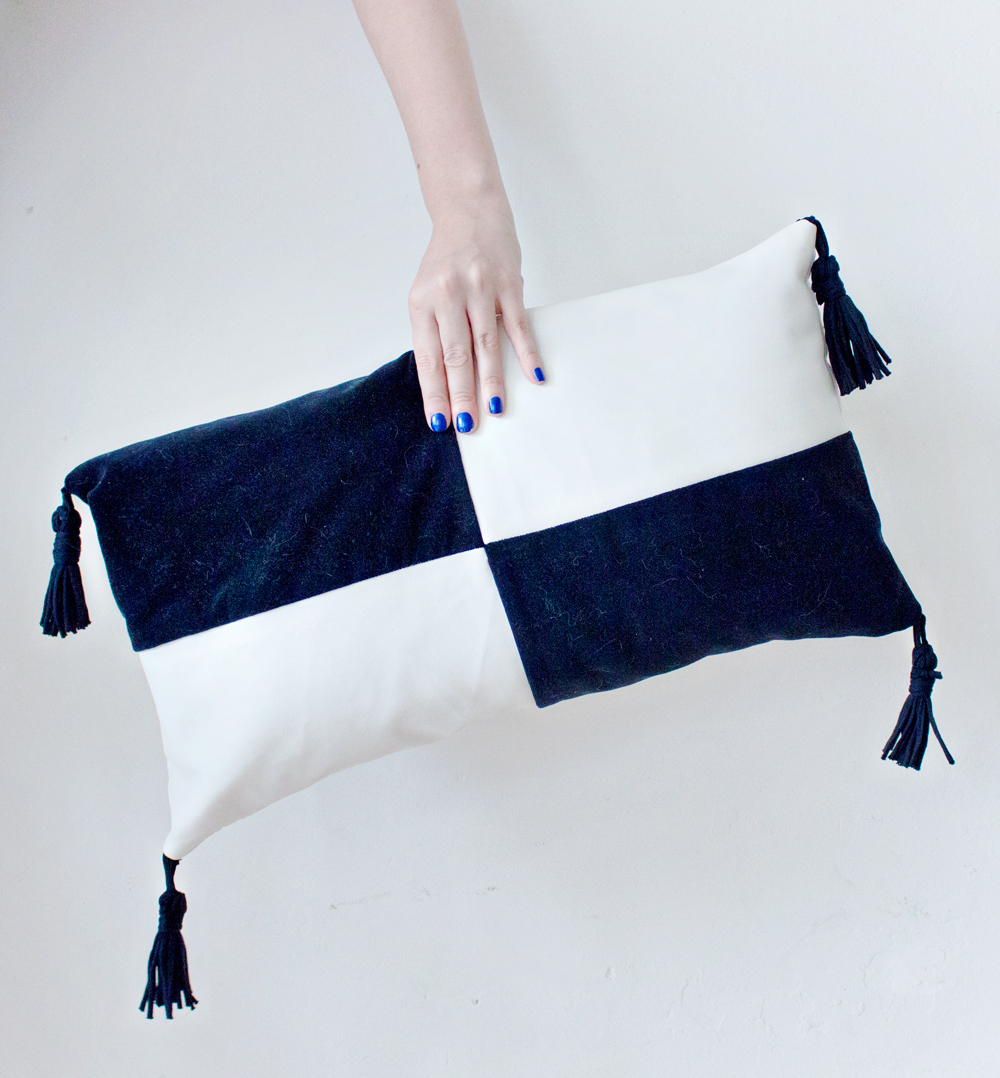 I am always a big fan of colours in my household accessories, but every once in a while I crave for simplicity and a more toned down design. So it was definitely time for some new colour block items!
Not to mention that I just bought this black and white rug from Ikea, and I had to DIY some things to make things match again in my living room ;)
Today I have a fun cushion cover tutorial for you! I used this white faux leather, combined with black velvet fabric. And to give it a little more personality, I added t-shirt yarn tassels! (also included in the tutorial)
And the fun thing is: you can mix and match any fabric and colours you like! So be inspired by this DIY, but don't hesitate to give it your signature look!
And no, I didn't just make one cushion cover: I made two! So keep checking the blog, because I have another colour block cushion cover DIY on here pretty soon!
Here's how to make your own cushion cover: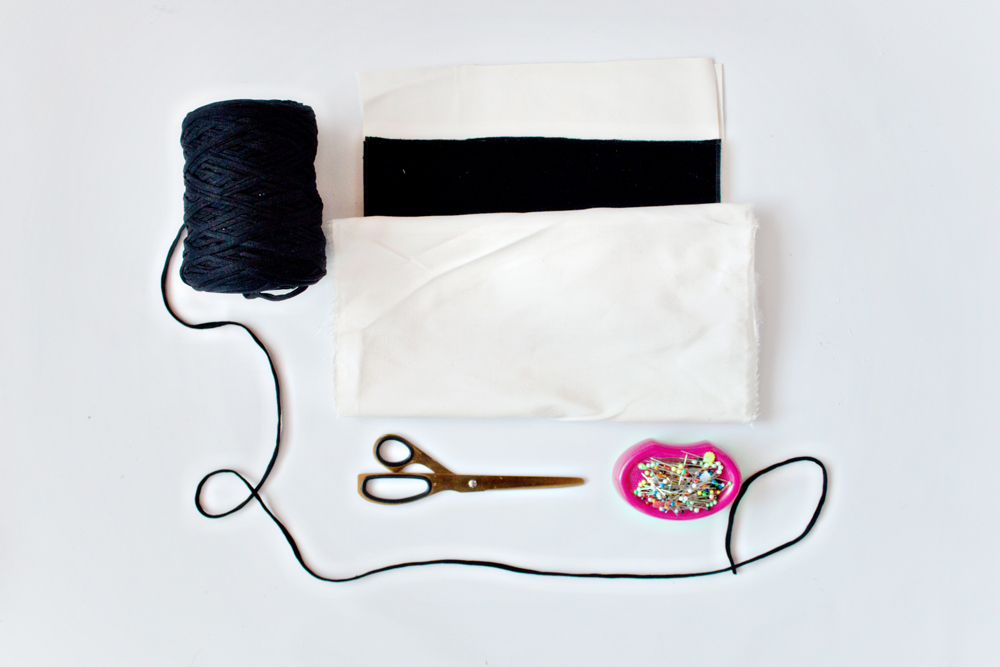 Supplies:
Black (faux leather) Fabric | White (faux leather) Fabric | T-Shirt Yarn | Pins | Scissors | Sewing Machine (or needle and thread)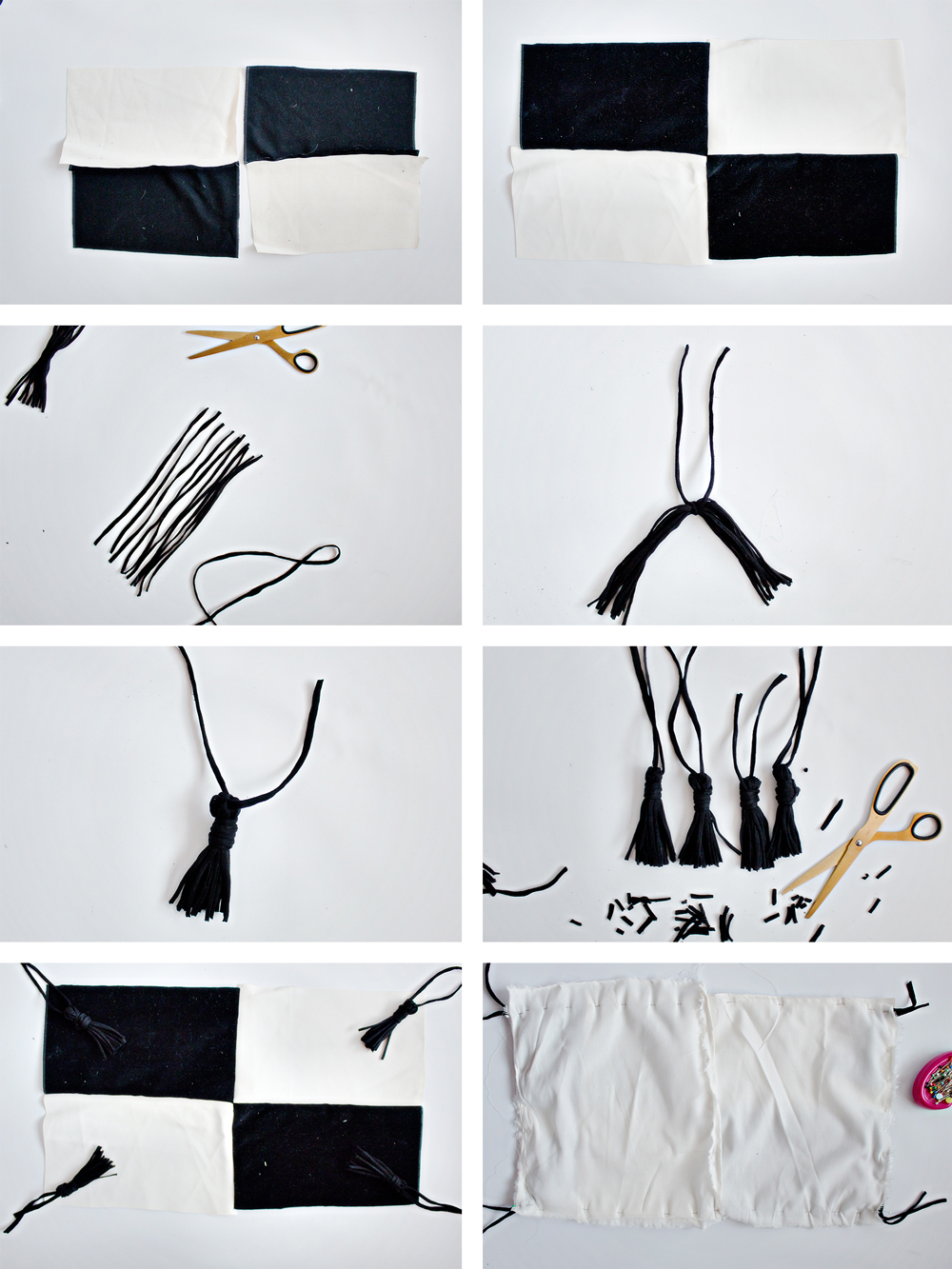 Step 1 – Cut the fabric in 4 equal pieces: 2 white and 2 black. Decide the size of the pieces by the cushion you have.
Step 2 – Sew the pieces together. First sew a white and a black piece together.
Repeat this with the other 2 pieces.
Now place the pieces next to each other, wrong side up. And pin the middle part together, to make sure the line matches. Start sewing from the middle.
Step 3 – Cut a bundle a few strands of the T-Shirt yarn in about the same size.
Step 4 – Aline the strand you just cut and place them on a flat surface.
Cut another piece of yarn and use it to tie a knot in the middle of strands like in the picture.
Step 5 – Cut a long piece of the yarn and wrap it around the top part of the strands. Secure with a double knot and cut the excessive yarn.
Step 6 – Repeat step 3 to 5 until you have 4 tassels. Aline them on a flat surface and cut the bottoms into the desired length.
Step 7 – Place the front of the cushion right side up on a flat surface.
Place each tassel in a corner: tassel on top of the cover and the long strings sticking out.
Step 8 – Cut two pieces of fabric both slightly bigger than the squared fabric. Hem one side on both pieces.
Place the fabric pieces right side down on top of the tassels, making sure the hemmed sides overlap.(this will be the opening for the cushion.
Pin along the outside line, making sure the tassels will stay in place.
Sew along the edge and turn the cover inside out. Take your cushion and put it inside the cover.
All done!