I think that this is the quickest DIY project I have ever made! It is just so simple, that I can't believe I never thought of this before.
Upcycling projects are my favourite kind and I visit thrift stores as often as I can to spot new projects, and to give old items a new purpose. My go-to pieces are usually dresses and skirts, since they can be pretty easy to alter to my style and size. But I am also a big fan of blouses, but they often require a lot of altering when it's not my size: moving the shoulder seams, shortening the sleeves which means removing the cuffs etc.
Until I spotted this pretty blouse at Anthropologie about a month ago. And one of those lightbulbs appeared above my head and I thought: I can make this!
So the next few times when I went to the thrift store I looked for the right shirt: a slightly oversized victorian blouse, with ruffles along the shoulder seem. And it was actually surprisingly easy to find. They even had a bunch of them.
This is the blouse that I choose:
BEFORE: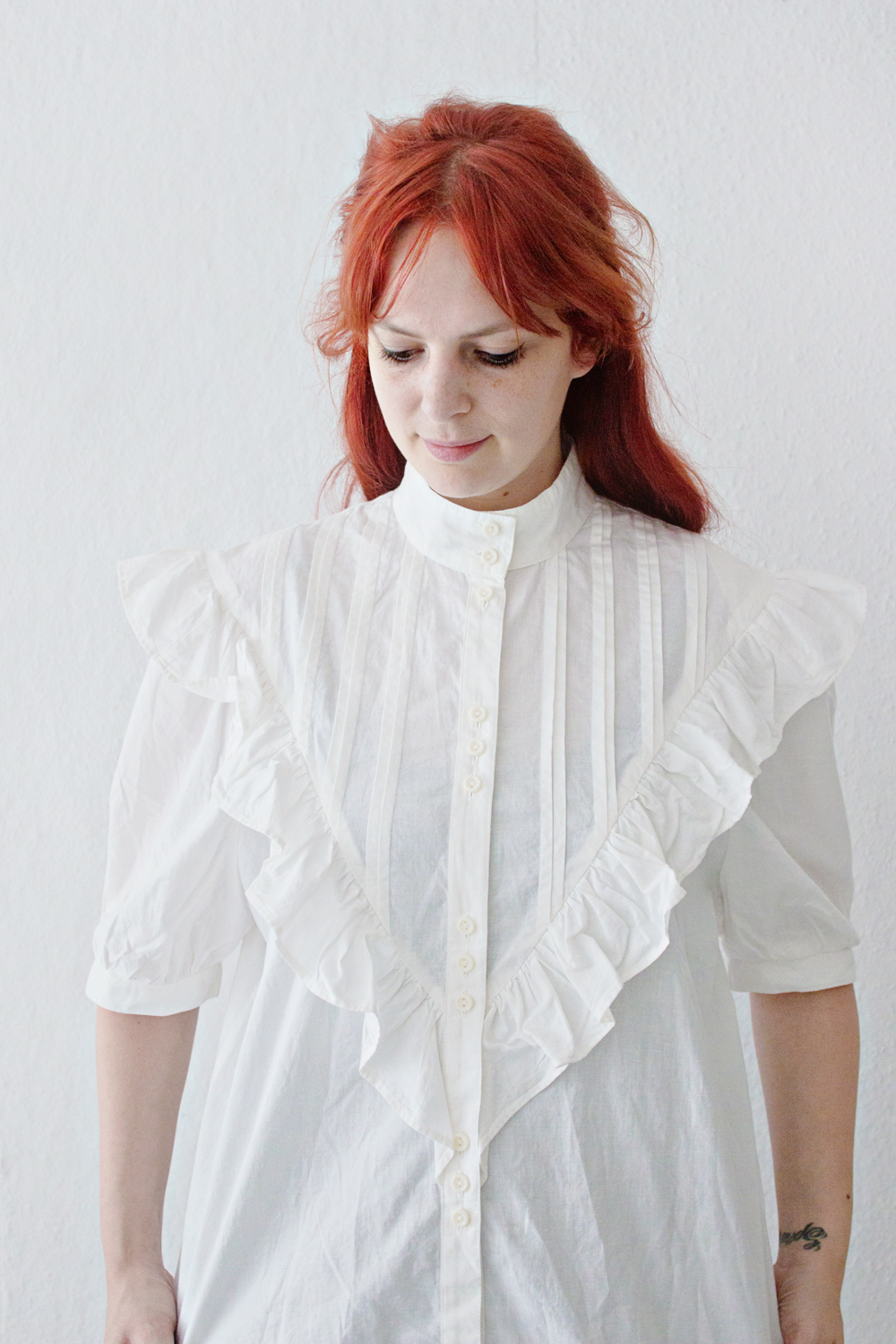 As you can see it is oversized, but I loved the placement of the ruffles and the high neckline.
The altering part was really easy (you can find the steps below) all it actually needs is to remove the sleeves for it to work. But if the blouse that you have thrifted is really too big, you can also take the sides in a bit.
---
DIY:
SUPPLIES 
– An old ruffled blouse. It doesn't matter what kind of ruffles it has, just as long as they go along the shoulder seam.
– Scissors
– Sewing Machine or Fabric Glue
STEP 1
– Remove the sleeves from the blouse with your scissors by following the ruffled line.
STEP 2
– Hem the cut line with your sewing machine or fabric glue
– Optional: Take the side of the blouse in, to make it a 'fitted' shirt.
Et voila! You just made yourself a very fancy anthropologie inspired blouse in two steps!