Warning: preg_match(): Compilation failed: invalid range in character class at offset 4 in /customers/7/d/a/lanaredstudio.com/httpd.www/wp-content/plugins/lightbox-plus/classes/shd.class.php on line 1384 Warning: preg_match(): Compilation failed: invalid range in character class at offset 4 in /customers/7/d/a/lanaredstudio.com/httpd.www/wp-content/plugins/lightbox-plus/classes/shd.class.php on line 1384 Warning: preg_match(): Compilation failed: invalid range in character class at offset 4 in /customers/7/d/a/lanaredstudio.com/httpd.www/wp-content/plugins/lightbox-plus/classes/shd.class.php on line 1384 Warning: preg_match(): Compilation failed: invalid range in character class at offset 4 in /customers/7/d/a/lanaredstudio.com/httpd.www/wp-content/plugins/lightbox-plus/classes/shd.class.php on line 1384 Warning: preg_match(): Compilation failed: invalid range in character class at offset 4 in /customers/7/d/a/lanaredstudio.com/httpd.www/wp-content/plugins/lightbox-plus/classes/shd.class.php on line 1384 Warning: preg_match(): Compilation failed: invalid range in character class at offset 4 in /customers/7/d/a/lanaredstudio.com/httpd.www/wp-content/plugins/lightbox-plus/classes/shd.class.php on line 1384 Warning: preg_match(): Compilation failed: invalid range in character class at offset 4 in /customers/7/d/a/lanaredstudio.com/httpd.www/wp-content/plugins/lightbox-plus/classes/shd.class.php on line 1384 Warning: preg_match(): Compilation failed: invalid range in character class at offset 4 in /customers/7/d/a/lanaredstudio.com/httpd.www/wp-content/plugins/lightbox-plus/classes/shd.class.php on line 1384 Warning: preg_match(): Compilation failed: invalid range in character class at offset 4 in /customers/7/d/a/lanaredstudio.com/httpd.www/wp-content/plugins/lightbox-plus/classes/shd.class.php on line 1384 Warning: preg_match(): Compilation failed: invalid range in character class at offset 4 in /customers/7/d/a/lanaredstudio.com/httpd.www/wp-content/plugins/lightbox-plus/classes/shd.class.php on line 1384 Warning: preg_match(): Compilation failed: invalid range in character class at offset 4 in /customers/7/d/a/lanaredstudio.com/httpd.www/wp-content/plugins/lightbox-plus/classes/shd.class.php on line 1384 Warning: preg_match(): Compilation failed: invalid range in character class at offset 4 in /customers/7/d/a/lanaredstudio.com/httpd.www/wp-content/plugins/lightbox-plus/classes/shd.class.php on line 1384 Warning: preg_match(): Compilation failed: invalid range in character class at offset 4 in /customers/7/d/a/lanaredstudio.com/httpd.www/wp-content/plugins/lightbox-plus/classes/shd.class.php on line 1384 Warning: preg_match(): Compilation failed: invalid range in character class at offset 4 in /customers/7/d/a/lanaredstudio.com/httpd.www/wp-content/plugins/lightbox-plus/classes/shd.class.php on line 1384 Warning: preg_match(): Compilation failed: invalid range in character class at offset 4 in /customers/7/d/a/lanaredstudio.com/httpd.www/wp-content/plugins/lightbox-plus/classes/shd.class.php on line 1384 Warning: preg_match(): Compilation failed: invalid range in character class at offset 4 in /customers/7/d/a/lanaredstudio.com/httpd.www/wp-content/plugins/lightbox-plus/classes/shd.class.php on line 1384 Warning: preg_match(): Compilation failed: invalid range in character class at offset 4 in /customers/7/d/a/lanaredstudio.com/httpd.www/wp-content/plugins/lightbox-plus/classes/shd.class.php on line 1384 Warning: preg_match(): Compilation failed: invalid range in character class at offset 4 in /customers/7/d/a/lanaredstudio.com/httpd.www/wp-content/plugins/lightbox-plus/classes/shd.class.php on line 1384 Warning: preg_match(): Compilation failed: invalid range in character class at offset 4 in /customers/7/d/a/lanaredstudio.com/httpd.www/wp-content/plugins/lightbox-plus/classes/shd.class.php on line 1384 Warning: preg_match(): Compilation failed: invalid range in character class at offset 4 in /customers/7/d/a/lanaredstudio.com/httpd.www/wp-content/plugins/lightbox-plus/classes/shd.class.php on line 1384 Warning: preg_match(): Compilation failed: invalid range in character class at offset 4 in /customers/7/d/a/lanaredstudio.com/httpd.www/wp-content/plugins/lightbox-plus/classes/shd.class.php on line 1384 Warning: preg_match(): Compilation failed: invalid range in character class at offset 4 in /customers/7/d/a/lanaredstudio.com/httpd.www/wp-content/plugins/lightbox-plus/classes/shd.class.php on line 1384 Warning: preg_match(): Compilation failed: invalid range in character class at offset 4 in /customers/7/d/a/lanaredstudio.com/httpd.www/wp-content/plugins/lightbox-plus/classes/shd.class.php on line 1384 Warning: preg_match(): Compilation failed: invalid range in character class at offset 4 in /customers/7/d/a/lanaredstudio.com/httpd.www/wp-content/plugins/lightbox-plus/classes/shd.class.php on line 1384 Warning: preg_match(): Compilation failed: invalid range in character class at offset 4 in /customers/7/d/a/lanaredstudio.com/httpd.www/wp-content/plugins/lightbox-plus/classes/shd.class.php on line 1384 Warning: preg_match(): Compilation failed: invalid range in character class at offset 4 in /customers/7/d/a/lanaredstudio.com/httpd.www/wp-content/plugins/lightbox-plus/classes/shd.class.php on line 1384 Warning: preg_match(): Compilation failed: invalid range in character class at offset 4 in /customers/7/d/a/lanaredstudio.com/httpd.www/wp-content/plugins/lightbox-plus/classes/shd.class.php on line 1384 Warning: preg_match(): Compilation failed: invalid range in character class at offset 4 in /customers/7/d/a/lanaredstudio.com/httpd.www/wp-content/plugins/lightbox-plus/classes/shd.class.php on line 1384 Warning: preg_match(): Compilation failed: invalid range in character class at offset 4 in /customers/7/d/a/lanaredstudio.com/httpd.www/wp-content/plugins/lightbox-plus/classes/shd.class.php on line 1384 Warning: preg_match(): Compilation failed: invalid range in character class at offset 4 in /customers/7/d/a/lanaredstudio.com/httpd.www/wp-content/plugins/lightbox-plus/classes/shd.class.php on line 1384 Warning: preg_match(): Compilation failed: invalid range in character class at offset 4 in /customers/7/d/a/lanaredstudio.com/httpd.www/wp-content/plugins/lightbox-plus/classes/shd.class.php on line 1384 Warning: preg_match(): Compilation failed: invalid range in character class at offset 4 in /customers/7/d/a/lanaredstudio.com/httpd.www/wp-content/plugins/lightbox-plus/classes/shd.class.php on line 1384 Warning: preg_match(): Compilation failed: invalid range in character class at offset 4 in /customers/7/d/a/lanaredstudio.com/httpd.www/wp-content/plugins/lightbox-plus/classes/shd.class.php on line 1384 Warning: preg_match(): Compilation failed: invalid range in character class at offset 4 in /customers/7/d/a/lanaredstudio.com/httpd.www/wp-content/plugins/lightbox-plus/classes/shd.class.php on line 1384 Warning: preg_match(): Compilation failed: invalid range in character class at offset 4 in /customers/7/d/a/lanaredstudio.com/httpd.www/wp-content/plugins/lightbox-plus/classes/shd.class.php on line 1384 Warning: preg_match(): Compilation failed: invalid range in character class at offset 4 in /customers/7/d/a/lanaredstudio.com/httpd.www/wp-content/plugins/lightbox-plus/classes/shd.class.php on line 1384 Warning: preg_match(): Compilation failed: invalid range in character class at offset 4 in /customers/7/d/a/lanaredstudio.com/httpd.www/wp-content/plugins/lightbox-plus/classes/shd.class.php on line 1384 Warning: preg_match(): Compilation failed: invalid range in character class at offset 4 in /customers/7/d/a/lanaredstudio.com/httpd.www/wp-content/plugins/lightbox-plus/classes/shd.class.php on line 1384 Warning: preg_match(): Compilation failed: invalid range in character class at offset 4 in /customers/7/d/a/lanaredstudio.com/httpd.www/wp-content/plugins/lightbox-plus/classes/shd.class.php on line 1384 Warning: preg_match(): Compilation failed: invalid range in character class at offset 4 in /customers/7/d/a/lanaredstudio.com/httpd.www/wp-content/plugins/lightbox-plus/classes/shd.class.php on line 1384 Warning: preg_match(): Compilation failed: invalid range in character class at offset 4 in /customers/7/d/a/lanaredstudio.com/httpd.www/wp-content/plugins/lightbox-plus/classes/shd.class.php on line 1384 Warning: preg_match(): Compilation failed: invalid range in character class at offset 4 in /customers/7/d/a/lanaredstudio.com/httpd.www/wp-content/plugins/lightbox-plus/classes/shd.class.php on line 1384 Warning: preg_match(): Compilation failed: invalid range in character class at offset 4 in /customers/7/d/a/lanaredstudio.com/httpd.www/wp-content/plugins/lightbox-plus/classes/shd.class.php on line 1384 Warning: preg_match(): Compilation failed: invalid range in character class at offset 4 in /customers/7/d/a/lanaredstudio.com/httpd.www/wp-content/plugins/lightbox-plus/classes/shd.class.php on line 1384 Warning: preg_match(): Compilation failed: invalid range in character class at offset 4 in /customers/7/d/a/lanaredstudio.com/httpd.www/wp-content/plugins/lightbox-plus/classes/shd.class.php on line 1384 Warning: preg_match(): Compilation failed: invalid range in character class at offset 4 in /customers/7/d/a/lanaredstudio.com/httpd.www/wp-content/plugins/lightbox-plus/classes/shd.class.php on line 1384 Warning: preg_match(): Compilation failed: invalid range in character class at offset 4 in /customers/7/d/a/lanaredstudio.com/httpd.www/wp-content/plugins/lightbox-plus/classes/shd.class.php on line 1384 Warning: preg_match(): Compilation failed: invalid range in character class at offset 4 in /customers/7/d/a/lanaredstudio.com/httpd.www/wp-content/plugins/lightbox-plus/classes/shd.class.php on line 1384 Warning: preg_match(): Compilation failed: invalid range in character class at offset 4 in /customers/7/d/a/lanaredstudio.com/httpd.www/wp-content/plugins/lightbox-plus/classes/shd.class.php on line 1384 Warning: preg_match(): Compilation failed: invalid range in character class at offset 4 in /customers/7/d/a/lanaredstudio.com/httpd.www/wp-content/plugins/lightbox-plus/classes/shd.class.php on line 1384 Warning: preg_match(): Compilation failed: invalid range in character class at offset 4 in /customers/7/d/a/lanaredstudio.com/httpd.www/wp-content/plugins/lightbox-plus/classes/shd.class.php on line 1384 Warning: preg_match(): Compilation failed: invalid range in character class at offset 4 in /customers/7/d/a/lanaredstudio.com/httpd.www/wp-content/plugins/lightbox-plus/classes/shd.class.php on line 1384 Warning: preg_match(): Compilation failed: invalid range in character class at offset 4 in /customers/7/d/a/lanaredstudio.com/httpd.www/wp-content/plugins/lightbox-plus/classes/shd.class.php on line 1384 Warning: preg_match_all(): Compilation failed: invalid range in character class at offset 4 in /customers/7/d/a/lanaredstudio.com/httpd.www/wp-content/plugins/lightbox-plus/classes/shd.class.php on line 700 Warning: Invalid argument supplied for foreach() in /customers/7/d/a/lanaredstudio.com/httpd.www/wp-content/plugins/lightbox-plus/classes/shd.class.php on line 707 Warning: preg_match_all(): Compilation failed: invalid range in character class at offset 4 in /customers/7/d/a/lanaredstudio.com/httpd.www/wp-content/plugins/lightbox-plus/classes/shd.class.php on line 700 Warning: Invalid argument supplied for foreach() in /customers/7/d/a/lanaredstudio.com/httpd.www/wp-content/plugins/lightbox-plus/classes/shd.class.php on line 707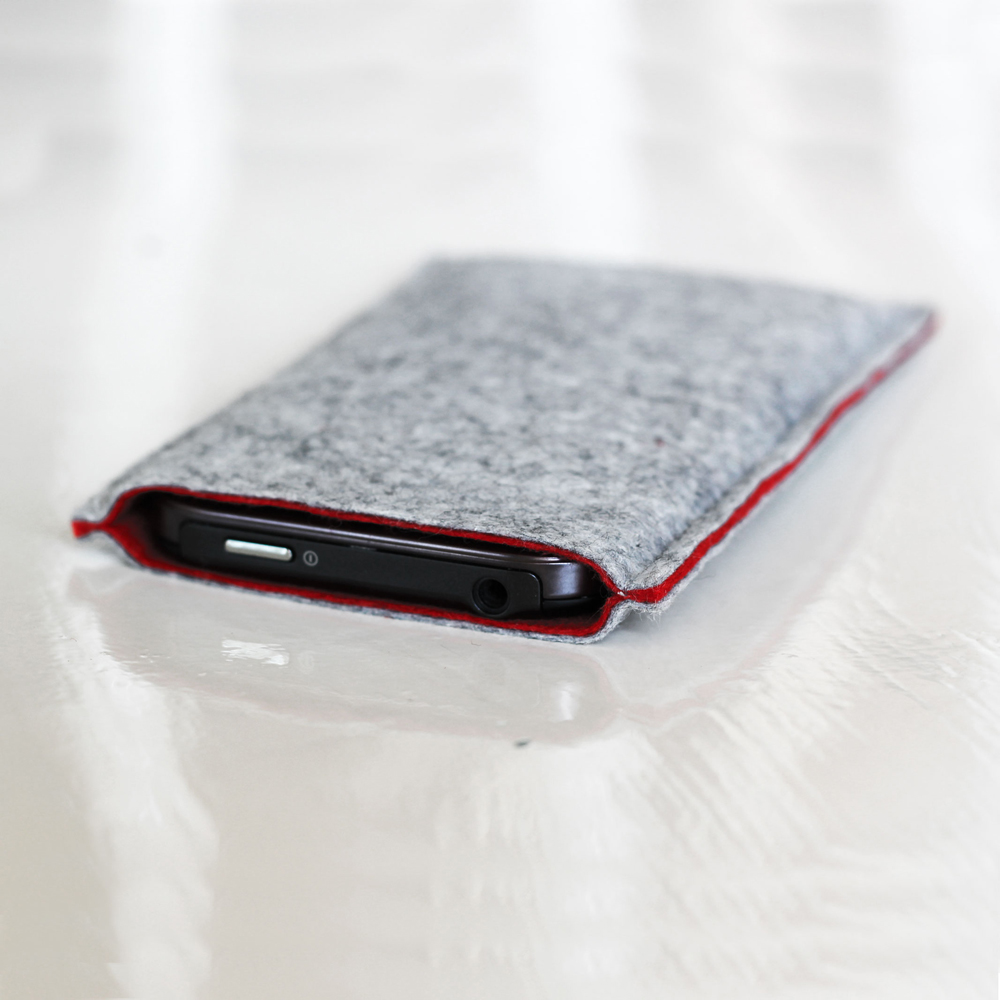 My boyfriend just bought a new phone and needed a new phone case to go with it. So I promised him I would make him one. He really wanted it to have a simple design and no bold colors. I decided to use felt, since it's affordable and if you use it in grey it gives it that modern manly vibe. I mixed the grey with some red on the inside, to make it more design and less boring :)
He's really happy with it, and it was ridiculously easy to make!
Here's how, if you want to make one yourself: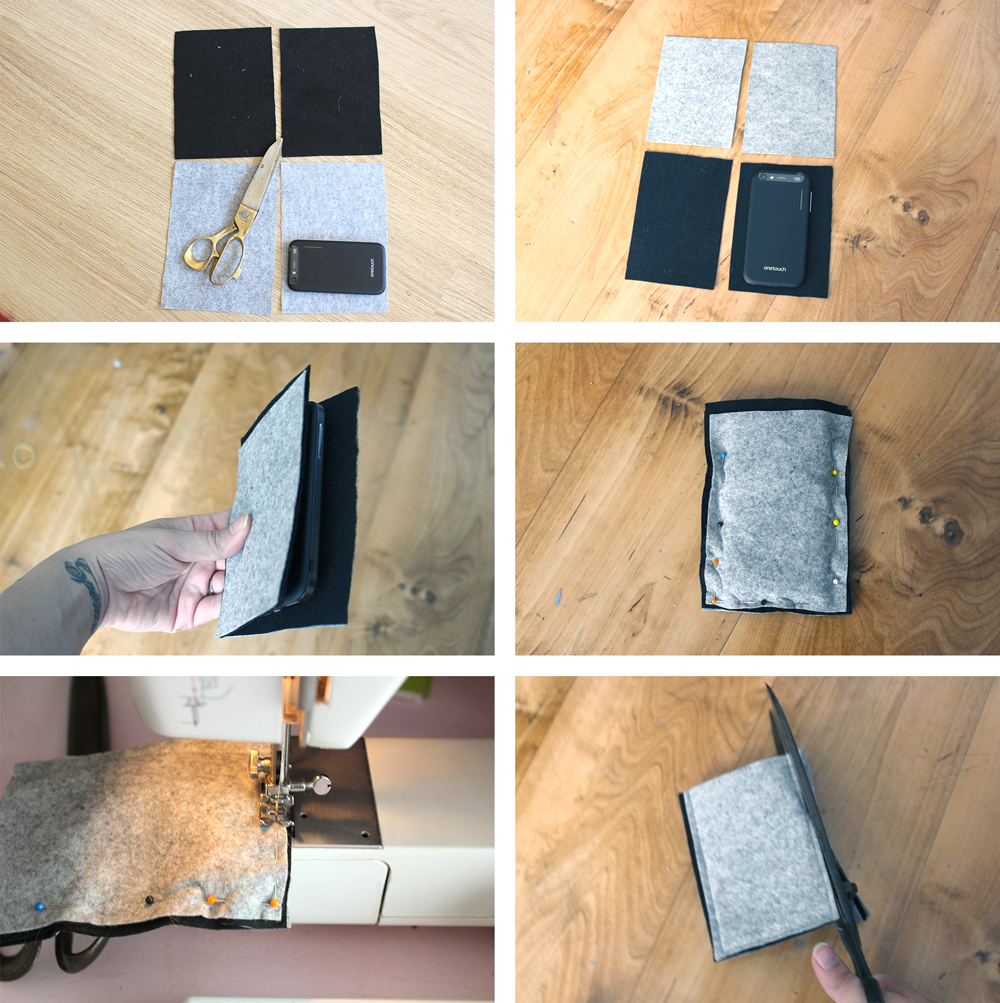 1. Get two different colors of felt, a scissor and some pins
. 
2. Cut the pieces in the size of your phone + 1 cm all around.
3. Put the pieces on top of each other and put your phone in the middle.
4. Pin the sides with your phone still inside the felt pieces. Pin it pretty tight, because it will be a bit less tight when it's sewn together.
5. Take your phone out and stitch the pinned parts.
6. Cut the felt about 2mm. from the stitched sides.