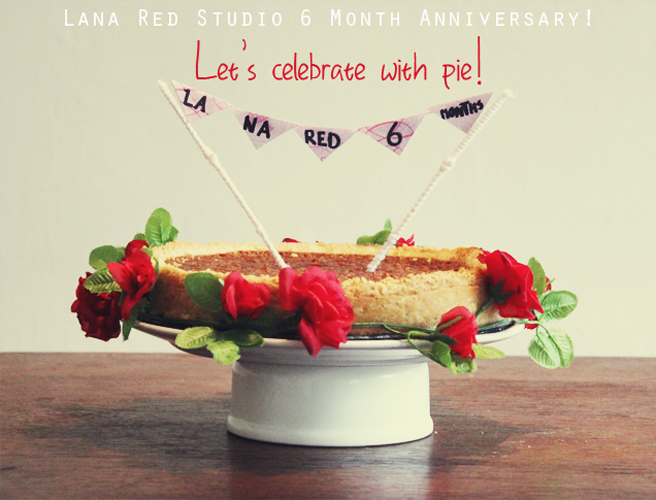 It's the 6 month anniversary of my blog Lana Red Studio! To celebrate, I made a very tasty pumpkin pie to fit the season and a pretty cake topper to announce my anniversary in a cute way :)
I am so happy that I started this blog and I can't believe that it has already been 6 months! I am so grateful for all the lovely comments and support from all of you and I am very looking forward to the next 6 months!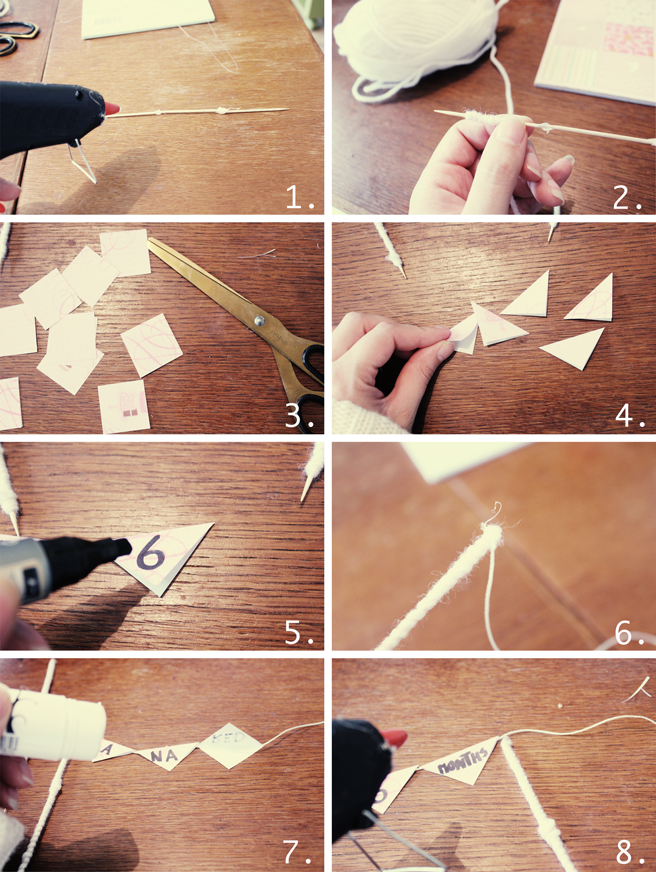 Supplies: Glue gun, yarn, cocktail sticks, scissors, paper, maker.
1.Glue three cocktail sticks together with the glue gun. (If you don't have any long cocktail sticks around the house like me)
2. Wrap the yarn around the sticks.
3. Cut the paper into squares.
4. Fold the pieces of paper like in the picture.
5. Write your message on the pieces of paper.
6. Glue a pieces of yarn to the top of on of the sticks.
7. Fold the pieces of paper on the 'yarn line' and secure with some glue.
8. Attach the other side of the yarn to the second stick.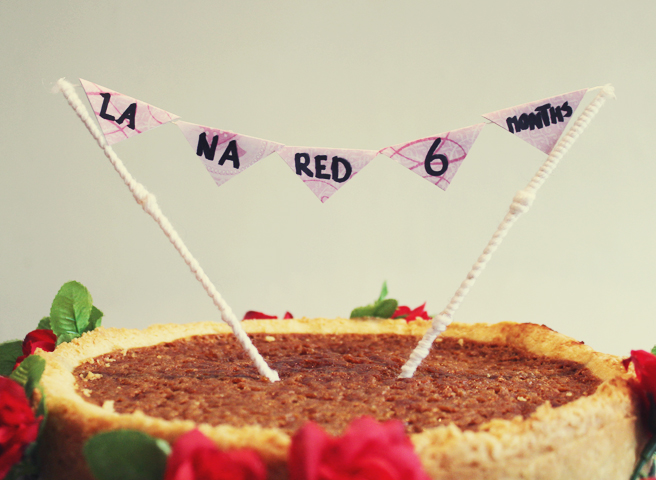 Ingredients for the dough:
Ingredients for the stuffing:
– 200 grams of caster sugar
– a teaspoon of cardamom powder
– a tablespoon of ginger powder
– a tablespoon of cinnamon
Mix the sugar, salt en egg yolk with the flower en add the butter. Knead the ingredients to make the dough. Let it rest in the fridge while preparing the rest of the pie.
Cut the rinsed pumpkin in small pieces and cook for about 20 minutes in a pan with water until the pieces turned soft. Drain the pumpkin and let it cool down. Put all the ingredients in a bowl and use a blender to bend the ingredients without any lumps.
Preheat the oven on 250 degrees. Butter the cake tin, I used a Ø 24 cm cake tin.
Divide the dough in the cake tin. Pour the stuffing in and the place the pie in the oven. Turn the over to
160 degrees after 10 minutes. Let the cake bake for about 40 – 60 minutes, depending on your oven.
The cake will still be a bit wobbly, but will get sturdier after it's cooled down and placed in the fridge.