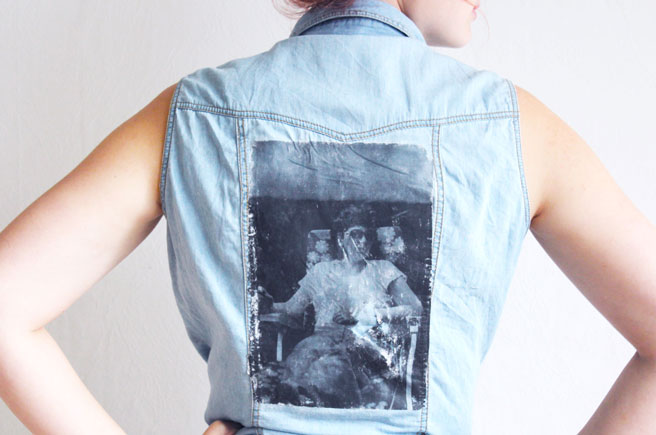 I recently posted a couple of

old pictures

that my dad took and I really wanted to integrate them into a new project. So I used one picture to try out a fabric transfer project using

Gel medium

. 
The picture is of my mom and I wanted to capture the vintage feel of the picture, so I decided to transfer it to the back of a denim shirt.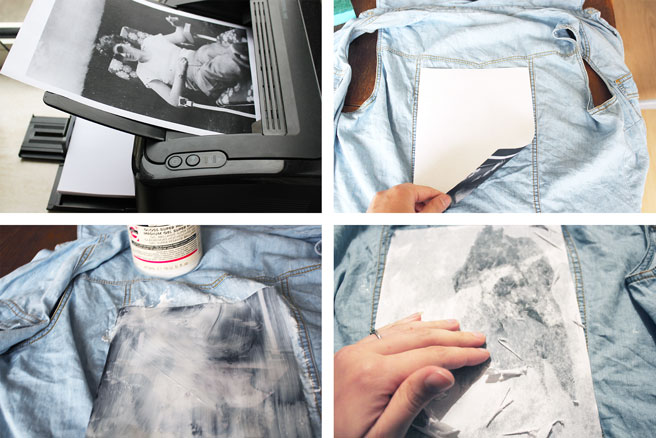 Supplies: Shirt/piece of fabric, laser printed image,

Gel Medium
1. Print your favorite image with a laser printer.
2. Apply a thick amount of Gel Medium on the right side of the paper (so you cover the image up with the gel).
3. Place the paper face down onto the fabric. And let it dry for a couple of hours or overnight.
4. Take some water and dab it onto the paper. Use your fingers to rub the paper of. This may take a while and there will be several layers of paper to remove. Make sure you don't rub to hard, or you will scratch the image! 
The image transfer probably won't come out as perfect as the original image, but I think that it suits the style and makes it look more unique.