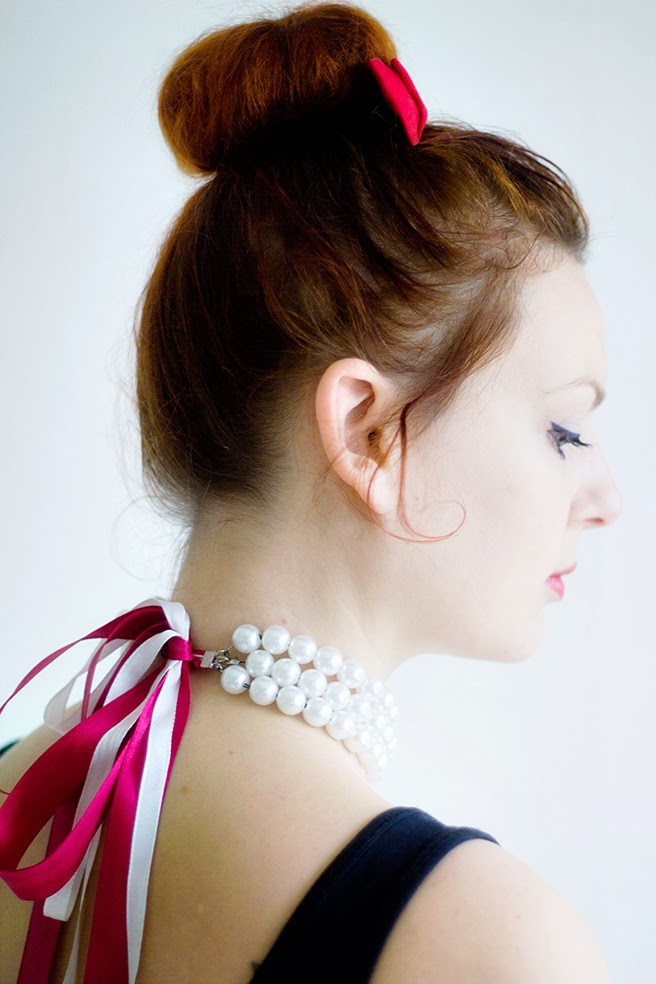 Here's an easy necklace DIY that won't take too much of your time during the Christmas holidays and will be perfect to wear with you little black dress. Or you can make a last minute one as a cute hostess gift :)
I always wanted to have a pretty pearl necklace that would look classy but also playful. So I designed this three strand pearl necklace with a big pink and white bow at the back!
1. Supplies: Pearls | Ribbon | (jewelry) Thread | Jewelry glue | Pliers | Jump Rings(x6) | Fold Over Connectors (x6) | Ribbon Connector (x2) |
2. String the pearls onto three seperate cords.
3. Cut the cords, making sure that they are long enough to cover your neck.
4. Attach a fold over connector to one of the ends of the cords, by tying a knot. Repeat this on all the strands and at both sides of the cord.
5. Take the attached fold over connector and make sure that the thread is pointing inwards, Use your glue on te connector and use your pliers to fold it closed. Let the glue dry. Repeat on all connectors.
6. Apply a dot of glue on the inside of your ribbon connector. Place the ribbon on top of the glue and squeeze the connector tight, using your pliers.
7. Attach the jump rings, to the fold over connectors. Attach the bead strings to the ribbon connector using the just attached jump rings. repeat this on the other side.