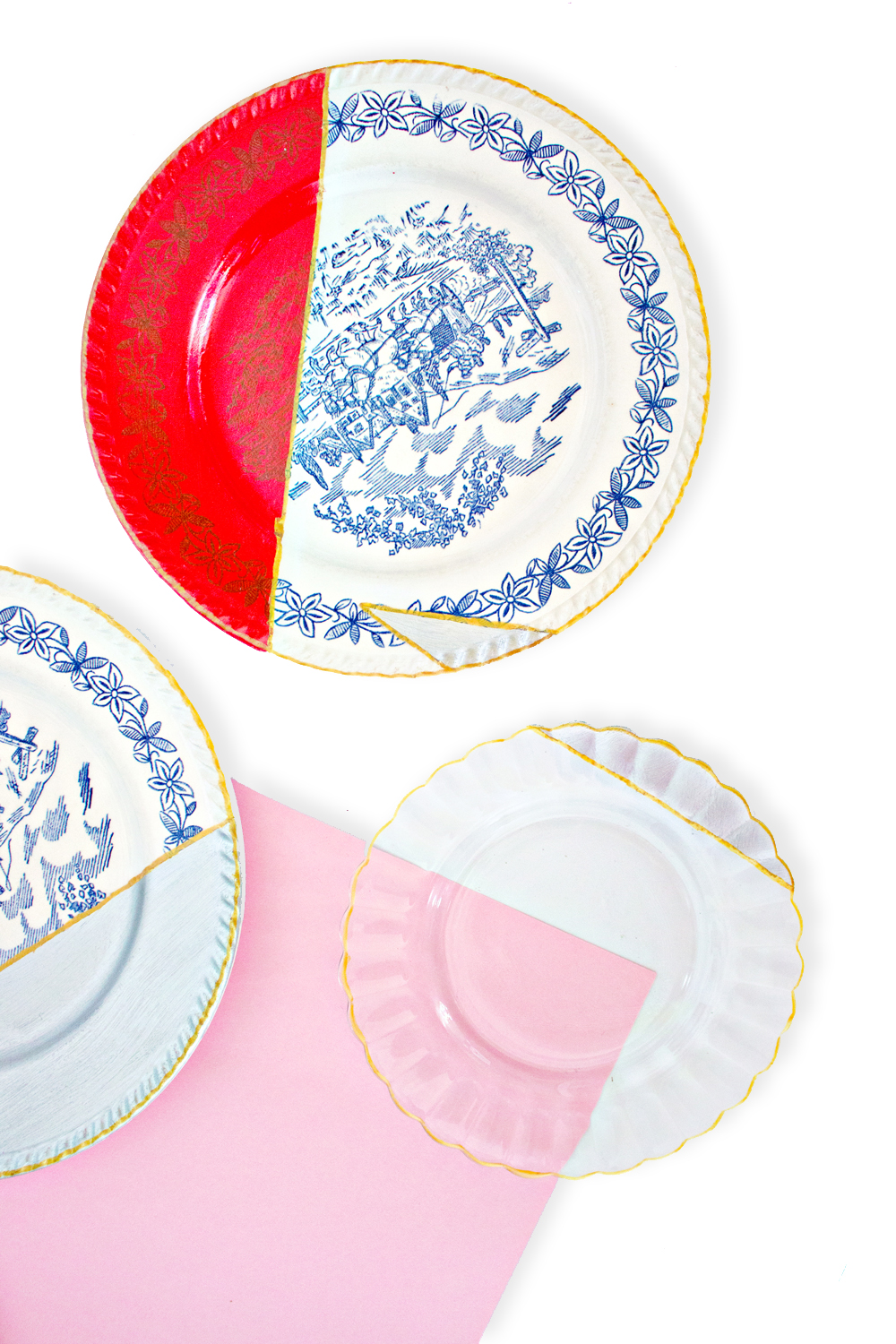 I am the biggest fan of miss matched plates! I have been spotting them for a while now on Pinterest and wonderful shops like Anthropologie and was desperate to have a few of my own. But I just never seem to find those 'jewels' at local thrift stores like my fellow thrifter friends – you know people on Instagram bragging about their 'amazing' cute floral thrift store dinnerware finds..sigh..
But who needs perfect plates, when you can paint over just-ok-plates! And turn them into pretty cute mix and match dinnerware!
And it just couldn't be more easy! All you need is some painters tape and paint and you have the magic ingredients to your new fabulous dinnerware!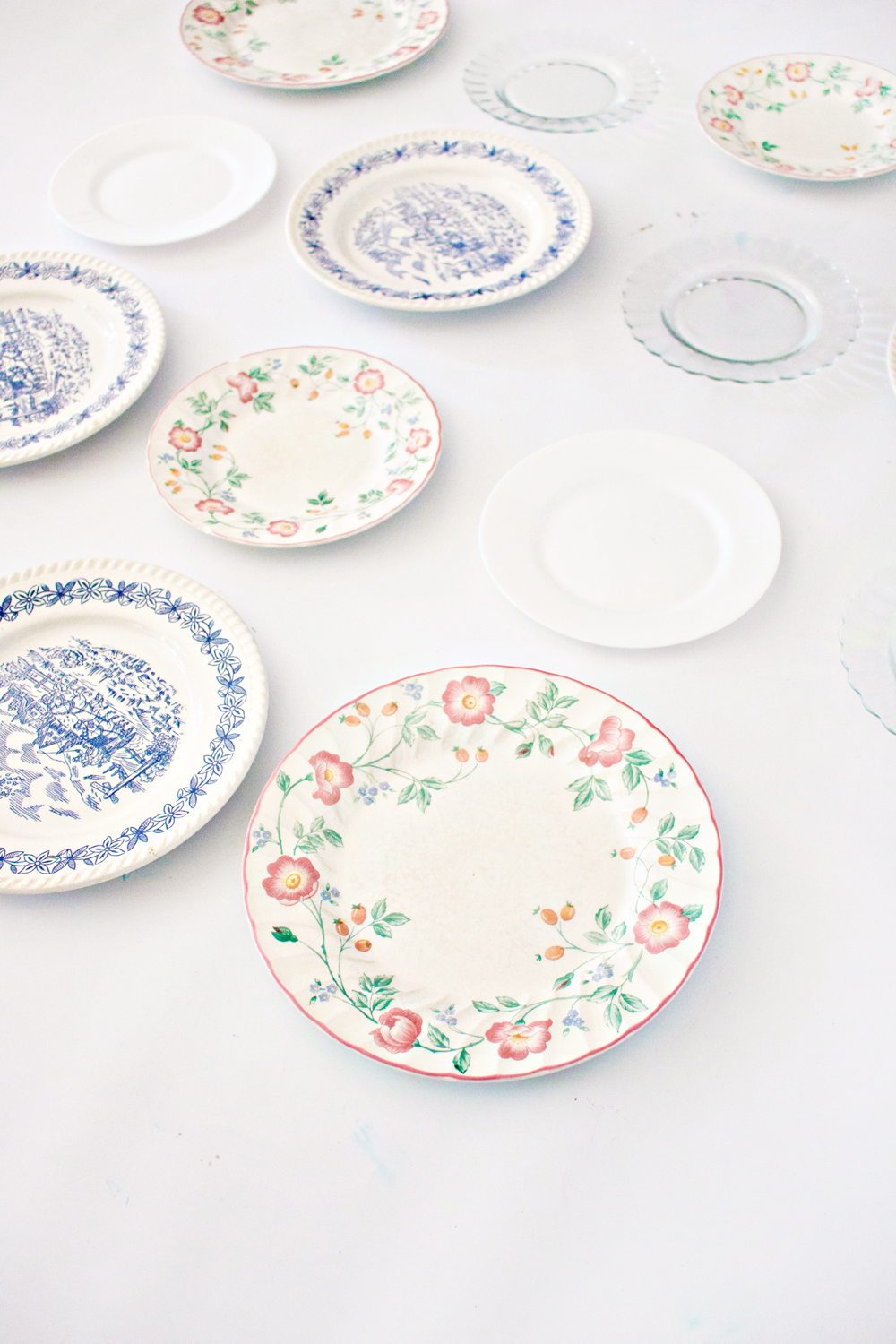 Materials:
– Old/ new/ thrifted plates
– Porcelain Paint (I used Deco art Enamels Paint)
– Porcelain Pen ( I used a gold dishwasher safe pen from Panduro)
– Painterstape
– Brush
– *optional – Dishwasher Safe Mod Podge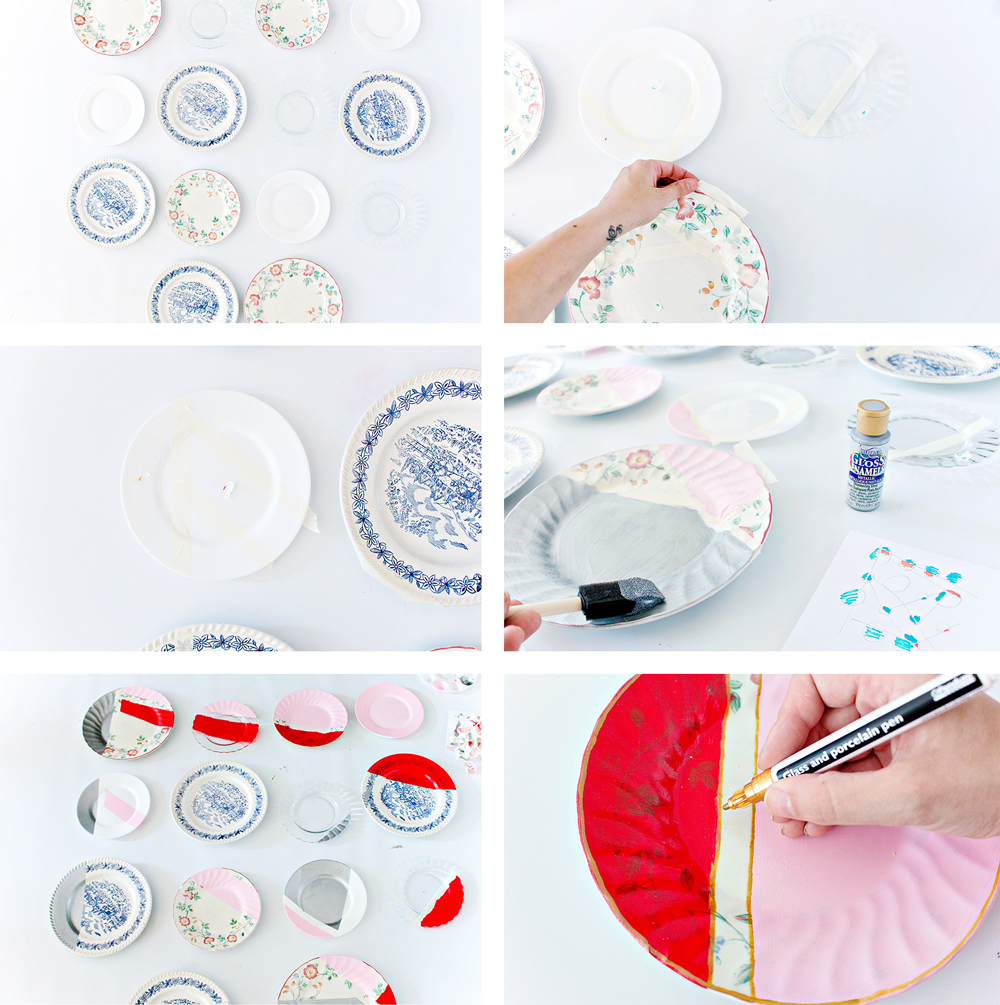 DIY
Step 1 – Collect and clean your plates. If you want to use a fun design across all of the plates, start placing them in the right order on the floor.
Step 2 – Use your painters tape to set your borders. Deciding where you want to use which colors. Make sure to press the tape all the way over the edge.
Step 3 – If you are like me, and forget which color goes where: make a small lay-out of your design on a piece of paper and mark small pieces of painters tape with the right color. Use those small pieces of painters tape temporarily on the parts you will paint.
Step 4 – Start painting (remove the tiny pieces of marked painters tape while going from plate to plate) I used 2 layers on all of the plates, letting them dry in between the layers.
Step 5 – Remove the painters tape after the last layer has dried.
Step 6 – Use your porcelain pen to trace all of the edges. Bake the plates according to the instructions on the paint that has to stay in the oven the longest (either your paint or pen)
** If your paint isn't suitable for serving food even after the plates have been baked in the oven and you would like to use them for more than decoration, than I suggest you use dishwasher safe mod podge.
Now let's show those plates off during your next dinner party!!