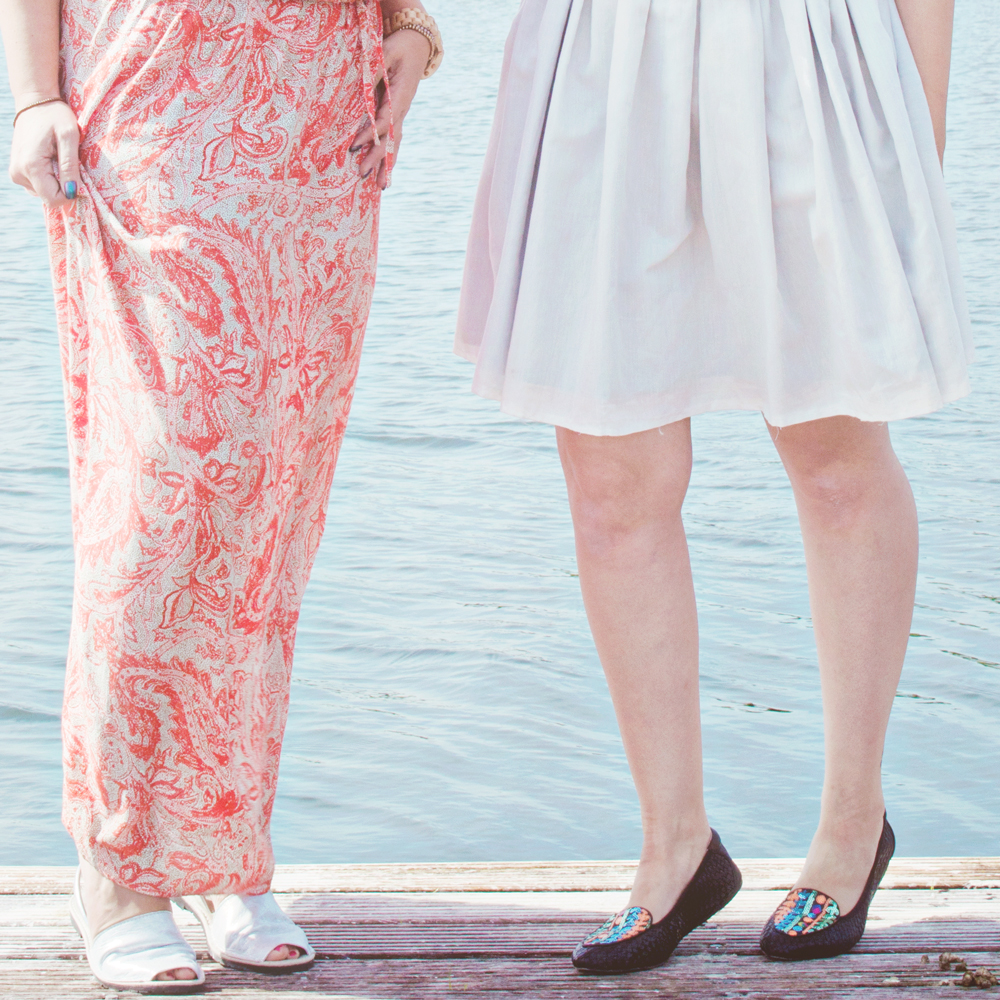 When I'm on pinterest or talking to people they're like: 'Ooh fall is starting, I just love to wear big sweaters and drink hot chocolate milk again and stay nice and cozy inside..' At that point I just get a sudden urge to scroll really fast through my Pinterest searching for bikinis. And the people.. I just shush them;) Because I don't want summer to end!(sad face) I looooove summer! If you are living in a country where summer is just about to start. Please adopt me. Did I tell you I love summer?
Don't get me wrong, I do love all that cozy warm stuff, but not just yet. I need some adjusting time. Or you can call it denial:)
That's why I wanted to do our first outfit post together in a last days of summer setting:) Luckily last week we had two beautiful sunny days here in The Netherlands.
I realised that these could actually be the last sunny days for a very long time.
So.. we packed a picnic for two, in our new favorite Unbegun bag! They are made out of Amsterdam market stand tarp! Because we are all pro-upcycling and: perfect for an outdoor picnic. We went to a place called 'Geestmerambacht'. It's a lake where we used to sunbath and swim when we were kids. I walk here a lot with my doggy to stay fit. It's so beautiful and sereen. Ofcourse Cacao the dog had to come too.
Lana was showing off her new glittery shoes for the fall, yet so so comfy and fun for the last days of summer from Cocorose London. And because it's all about the outdoors and nature I also wanted to show you our new collaboration with Jord wood watches. They handcraft watches out of wood. How cool!! You would think it would be heavy to wear or that it might be too stiff. But none of that is the case. It's actually very wearable, feminine and stylish.
A watch represents time and the thing I've learned over de past couple of years, is that you'd better make it count. And try to enjoy every minute of it. And that's just what we did. We ate, relaxed, enjoyed the sun, played with the doggy and ended up cooling down in the water. And maybe I got just a little too enthousiastic with the water splashing on Lana, haha. It was a lovely day and after saying goodbye to summer we are ready for fall and all of it's beautiful colours.
Barbara is wearing:
Shoes by Menorkinas
Dress is Private from Bali
Watch by Jord
Bag by Unbegun
Lana is wearing:
Shoes by  Cocorose London
Dress by Lana Red Studio
Bag by Unbegun