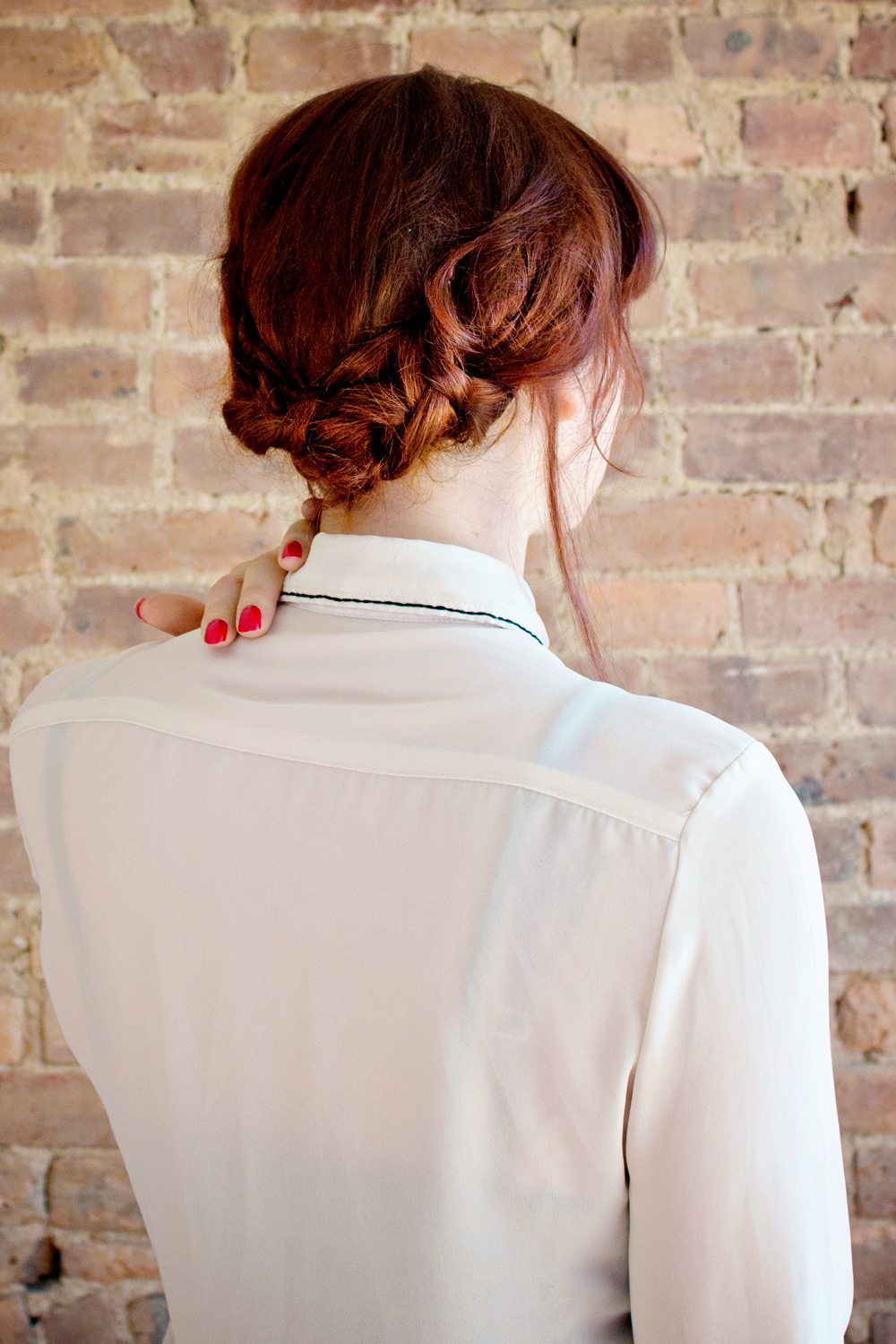 Rain, snow and storms going on in your part of the world? No worries! Because you will still look fancy with your new easy and quick braided hairdo!
I have to be honest here, I usually wear my hair down because I am just so happy with my long hairdo. I never had the hair structure for longer hair, it's very frail and thin and it just won't grow longer than a certain length. So I pretty much always wear my DIY extensions (click here for the full hair extension tutorial) and sport a hair-down-style for almost every day.
But I have been working on a big theater project lately and that involved actually building a giant stage design! So for safety, I couldn't wear my hair down.
That is when I came up with this easy but still elegant low braided bun. It's perfect for shoulder length or longer hair and the best part is, that even during the most active days it still looked good at the end of the day!
Here's how:

DIY
Step 1 – Brush your hair and *tease it a bit on top (*optional). Divide your hair into two sections.
Step 2 – Braid the first section of hair and temporary secure with an elastic band.
Step 3 – Braid the other section of hair and temporary secure with an elastic band.
Step 4 – Pull on the strands of hair within the braid to create a bigger and 'fuller' braid.
Step 5 – Cross fold the two braids.
Step 6 – Tie a knot with the braids, by pulling one braid across the other.
Step 7 – Pin your braid just before the elastic to secure. Repeat this for the other side.
Step 8 – Remove the elastic band and fold the end part of your braids into the tightly secured parts.
You can add extra bobby pins if necessary.
All done! And for a more fancy look, wear a nice hairpin on the side or an elegant headband.