How about getting thicker and/or longer hair without an expensive stylist!
My hair is pretty thin and it just won't grow longer than a certain length. And I have always wanted to have longer thicker hair, but because my hair is so fragile I was too afraid to use extreme options like the glue-in extensions.
The best non-permanent option was to get some clip-in extensions. But they are pretty expensive and it is still a bit of an experiment, because you never know if it's going to look natural on your hair..
After many years of googling 'hairstyles for thin hair'

 I finally decided to make my own clip in hairextensions, and they turned out great!
I wear them daily now and it just makes me feel like 'me'. I notice that I am not embarrassed by it, or that it makes me feel 'fake'. Whenever somebody compliments me on my hair, the first thing I mention will be the extensions and how it changed the way that I look at myself.
Don't get me wrong, I looove the look of shorter hair, but I never felt like a short-hair-person if that makes sense.
So for everyone out there that is in the need of a change or has been dreaming of this since you watched Ariel flip her hair out of the water here is the:
Hair DIY: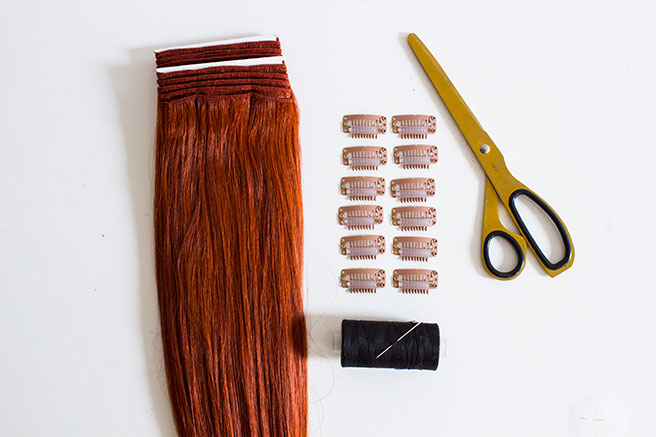 Supplies:
– One pack of hair. I bought mine in Korea town NYC. But there are a lot of web shops online that sell them. The good thing about these packs of hair is that the hair will have at least 3 shades of color. This means that it will blend more natural to your own hair, and doesn't have to be the exact same color. Also if you buy human hair like I did, then you can try to dye it. (although I tried to dye it with henna and that didn't work, but regular hair dye should work better though..)
For those interested in the color I bought, it's #350.
– 12 Clips
– Needle and Thread
– Scissors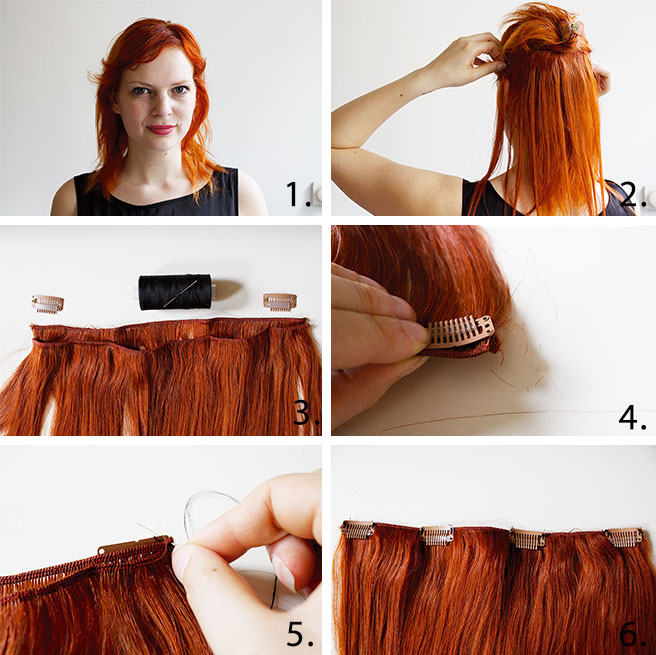 1. Brush your hair and if you have bought straight hair, then straighten your own hair too.
2. Put your hair up as shown in the picture and take a string of the bought hair and measure it across your head. Starting from the back of your ear to the other ear. Cut the strip of hear.
– I doubled the hair up, which means that you will use two strings of hair with the same width for 1 clip in extension.
– I made 3 clip in extensions. So that means that you will need 6 strings of hair with the width of one ear to the other.
3. Place the two strips of hair on top of each other.
4. Place the clip onto the hair. Make sure you place it in the right direction.
5. Sew the clip to the layered hair. Start with one side.
6. I used four clips for 1 extension piece. I first sewed the right one on and then worked my way to the left.
** as an extra option, you can have a hairdresser cut your hair with the extensions in, to style it more. Or give it extra layers.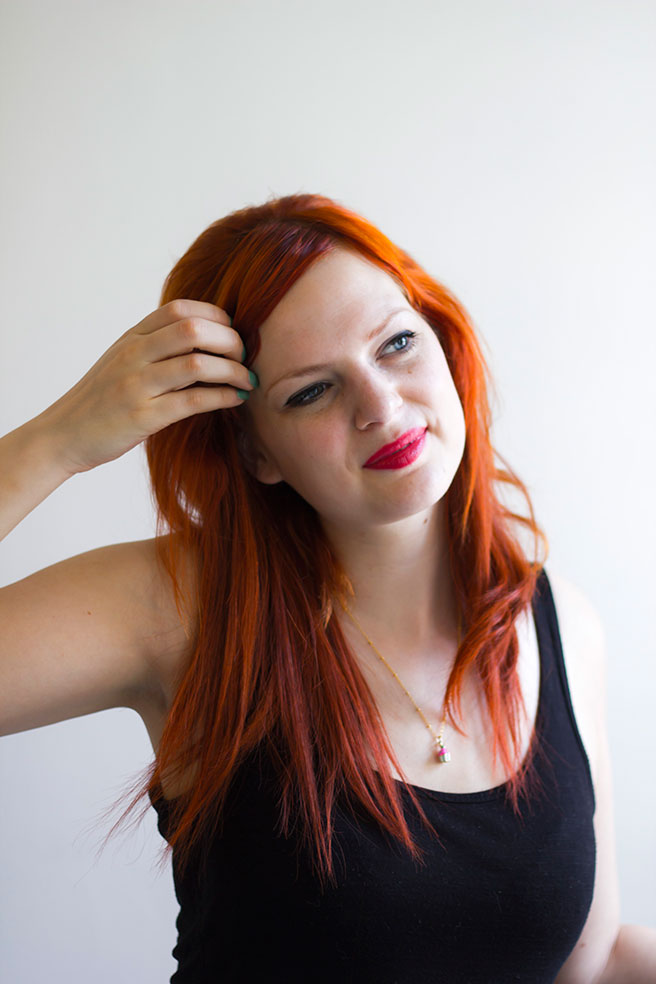 Now on to the styling of the hair to make it look extra natural: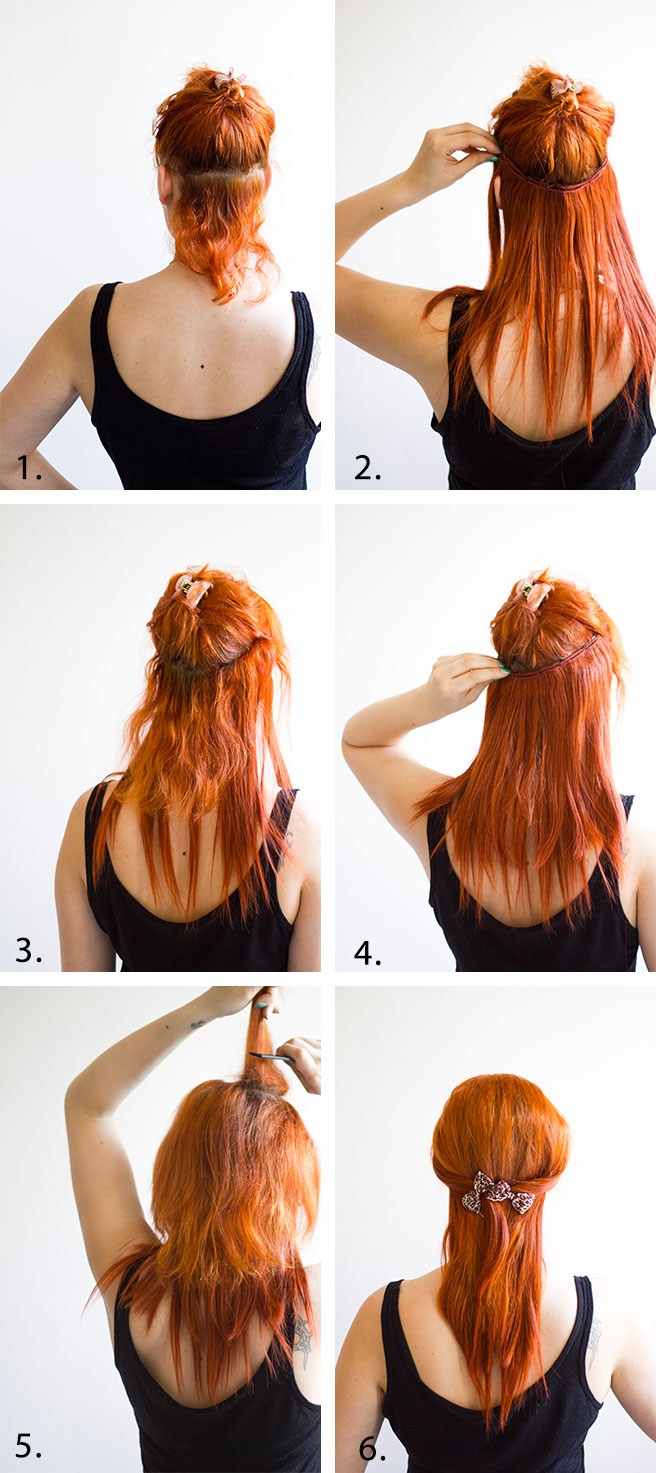 I kept my hair curly to show you the difference between the extensions and my natural hair in the photos, to get a true natural look: straighten your hair if your extensions are straight
1. Put your hair up from about mid-ear length. Also straighten your hair
2. Place your first extension strip in your hair, starting with the middle clips. If the clips don't feel very secure, then tease your hair a bit, to give the clips more grip.
3. Add a small layer of your own hair on top of your extension strip.
4. Put your second extension layer in.
– Repeat step 2-4 for as many layers as you have.
5. Put your hair down. (and I know that my hair looks totally unmatched in this picture, but that is due to the fact that my hair wasn't straightened and combed with the extensions)
– Then tease your hair on the top a bit to be able to cover up the top clips in your hair.
6. Style your hair in any way you like!
The extensions don't really look natural when I just wear my hair down, because my hair is a bit frizzy and curly sometimes. But when I wear it like this, it totally blends in!