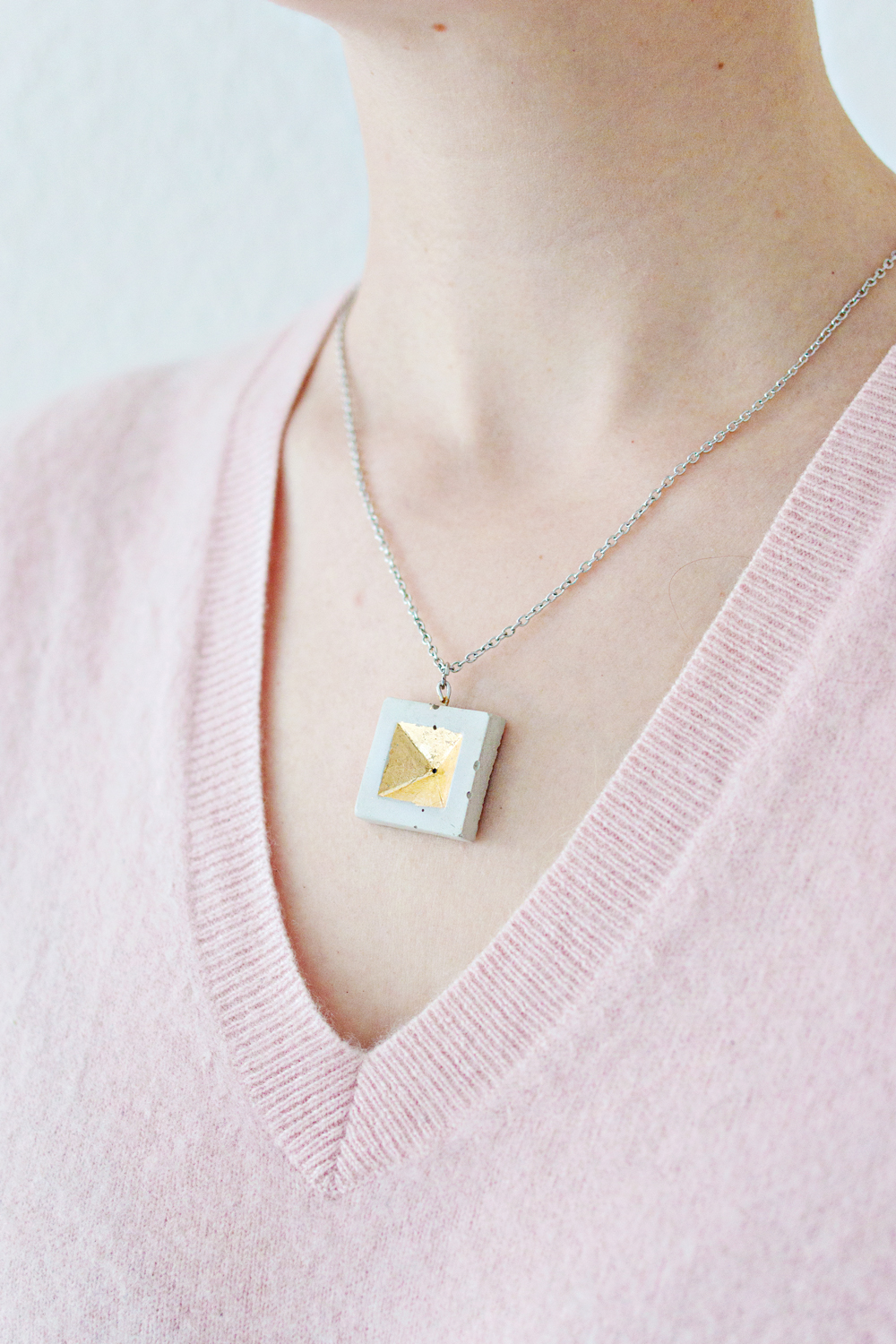 Today I am so pleased to share my new project with you: a concrete and gold leaf pendant!!
You might recognise this pendant from my Etsy shop collection. Yes, that is right you can make one yourself with this tutorial or if you don't have the time, resources or energy to make one: you can also purchase a handmade pendant in the LRS Shop!
I have made a bunch of pendants in 3 different shapes and you can find them all on Etsy.
---
But if you feel like making one yourself here's the story:
While making my Concrete Planter DIY project, I noticed that I really enjoyed working with concrete, and how easy to use the material is.
This inspired me to experiment and see what else I could make that involves this crafty supply. I really liked to find out if I could use it for something that you wouldn't usually see in this material and that is how I came up with a collection of concrete pendants!
I found a great silicon mold in the shape of a square with an inward pyramid, that is perfect for this project. And after experimenting a lot, I finally found the best way to turn the concrete into a light-weight subtle pendant.
To give the concrete a more finished and luxurious look, I added a gold leafing detail, accentuating the shape of the pendant.
Are you excited to wear one of your own concrete pendants?
DIY
---
This project is a part of the LRS DIY it / BUY it collection.
Make it yourself, or buy it today!
---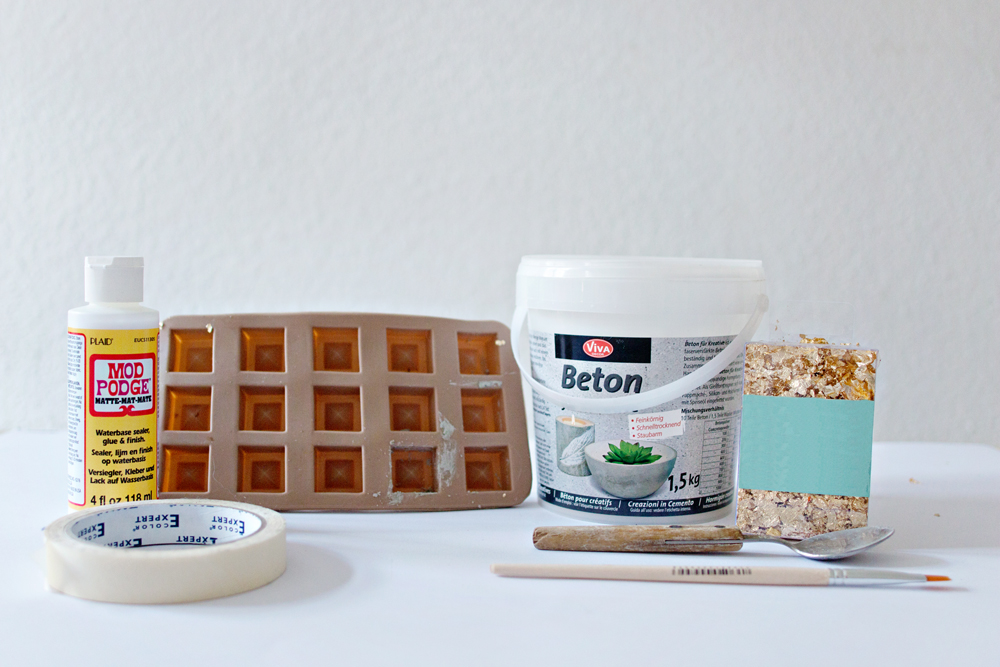 SUPPLIES
– Concrete
– Silicon Mold
– Mixing bowl
– Gold Leaf
– Adhesive (which I forgot to include in the picture..)
– Silver Wire
– Pliers
– 2 Paint Brushes
Optional
– Painterstape
– Mod podge, or something similar to create a protective coating
– Sandpaper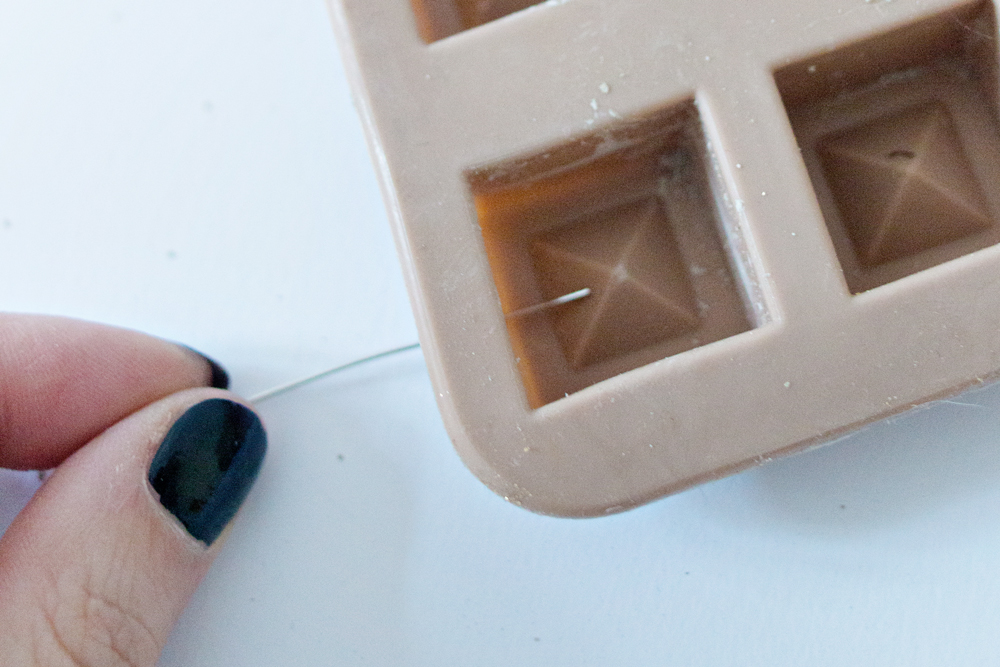 STEP 1
– Take a smal piece of the silver wire and *push it through the silicon mold, this will be the wire that connects the necklace to the pendant.
*Make sure that the wire is in de middle and will be completely covered by the concrete.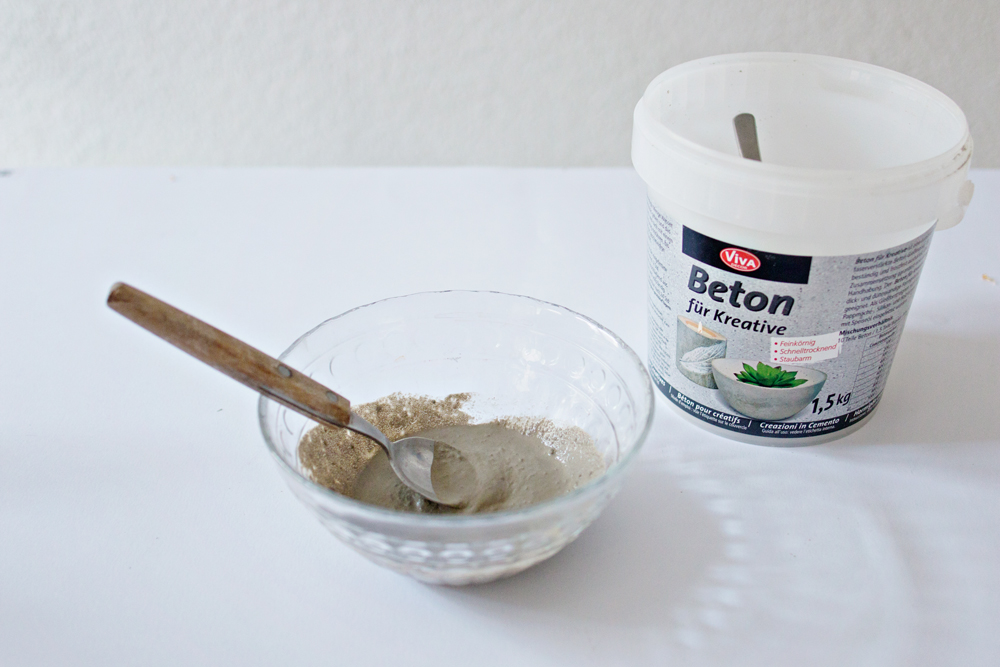 STEP 2
– Mix the concrete according to the directions on the pack.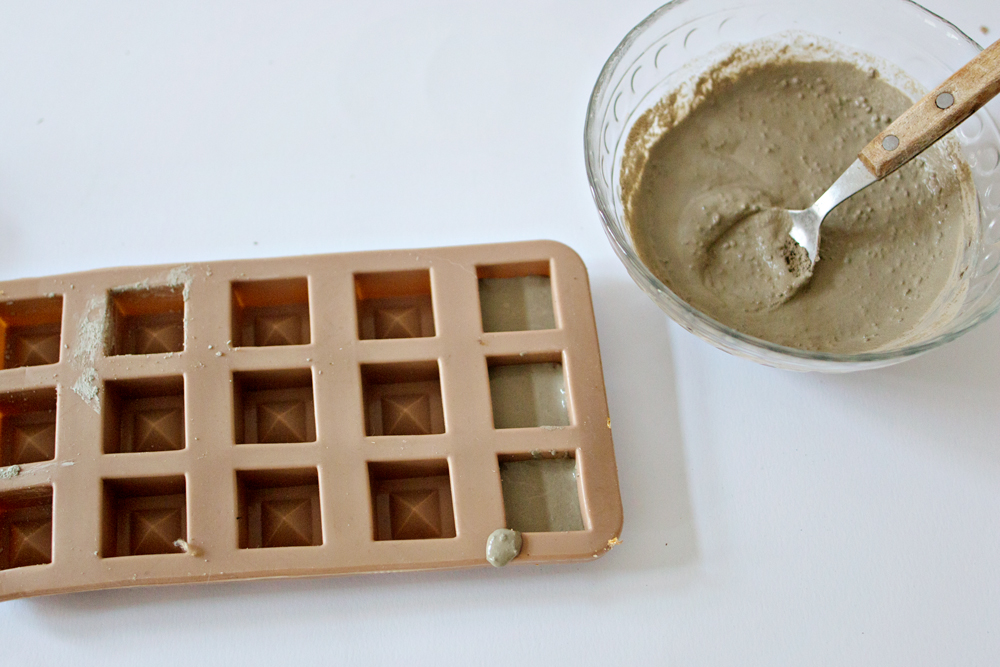 STEP 3
– Pour the concrete inside the silicon mold.
– After filling the individual shapes, shake and tap the mold to remove most of the airbubbels and to even the tops out.
– Let the concrete dry for at least 24 hours, before removing it from the mold.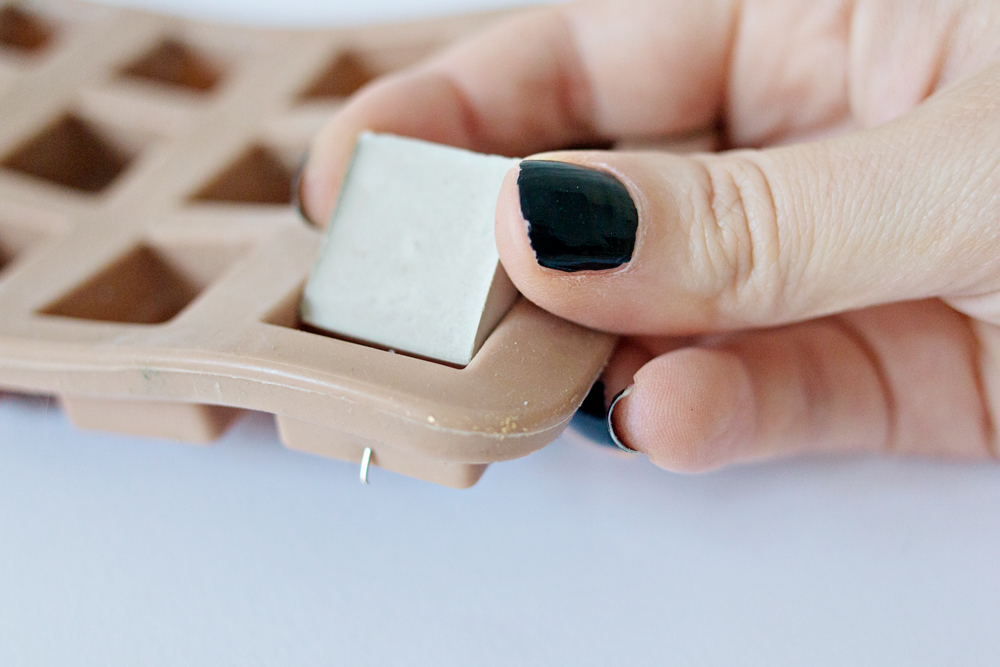 STEP 4
– After 24 hours, gently remove the dried concrete from the mold by lifting it sideways, pulling the concrete and the attached wire from the mold.
*If the back of the pedant has sharp edges, you can use a piece of sandpaper to sand the back.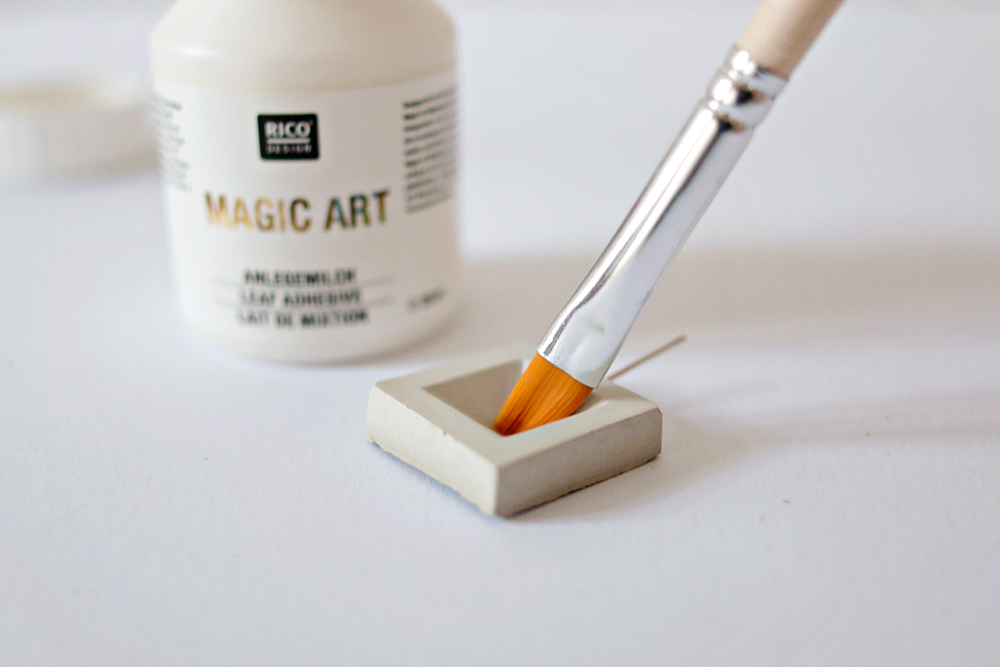 STEP 5
– Apply a thin layer of adhesive onto the parts that you want to cover with gold leaf.
– You can use painters tape to protect the parts that you don't want to cover with gold leaf.
– Let the adhesive sit for about 5 to 10 minutes before moving to the next step.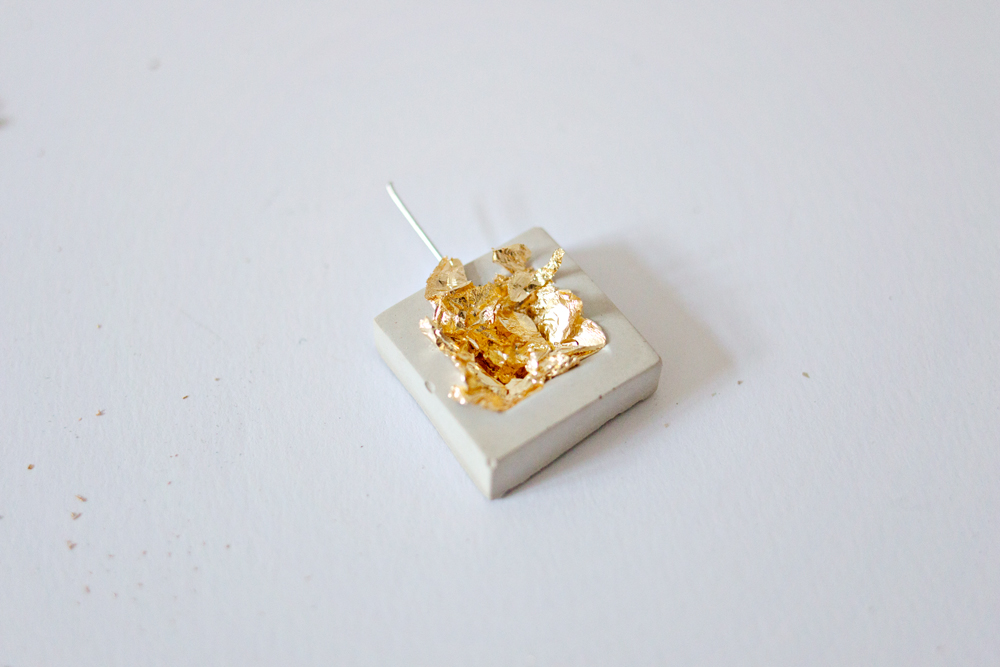 STEP 6
– Carefully take a few pieces of gold leaf and press it onto the parts that have adhesive on them.
– Apply pressure onto the gold leaf, without rubbing, press the leaf onto the glue.
– Let the gold leaf sit for about 30 minutes.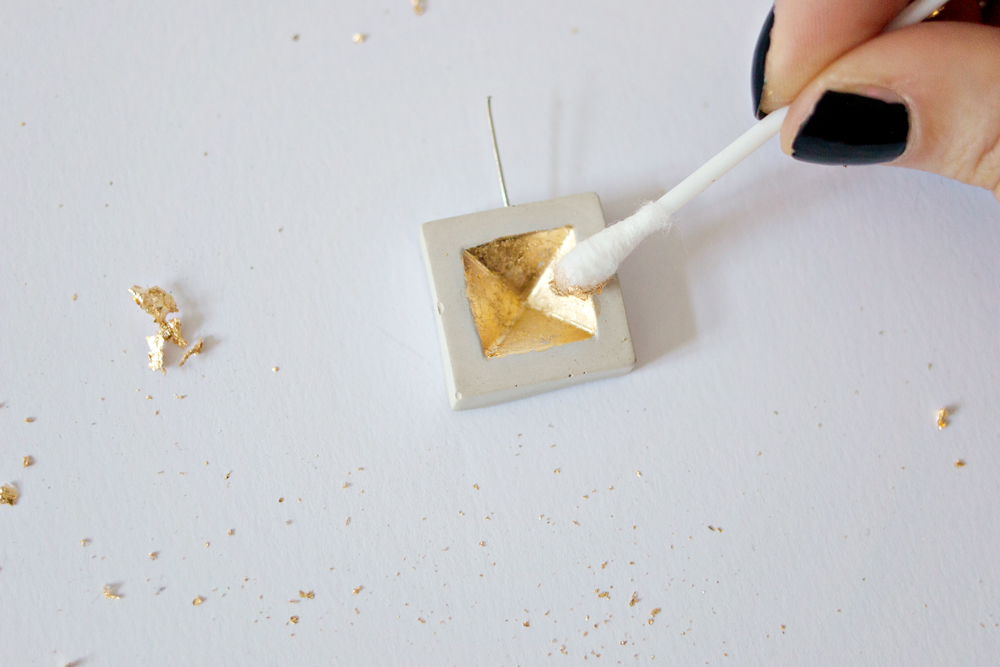 STEP 7
– After 30 minutes, use your finger, a dry brush or a cotton swab(this was the only thing soft and small enough to reach all corners) and gently rub over the applied gold leaf. While rubbing, the excessive leaf should come off and the glued leaf will be attached to the concrete.
* In case some parts have not been covered properly onto the concrete, you can repeat steps 5 to 7.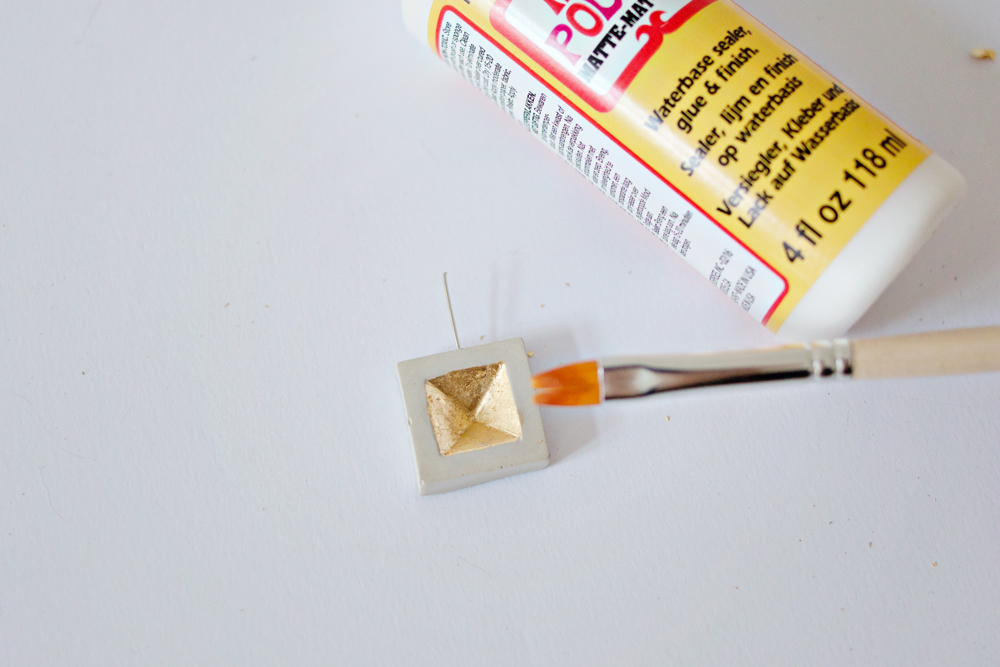 STEP 8
– Apply a thin layer of mod podge or any other type of sealant to protect the concrete and gold leaf from scratches.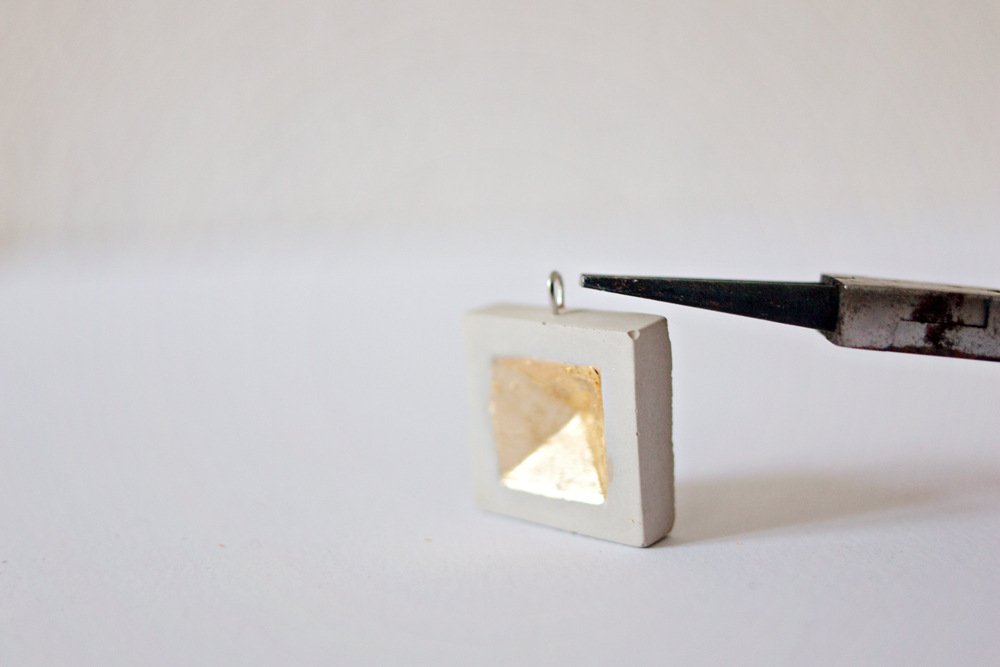 STEP 9
– Use your pliers to bend the silver wire, creating a circle shape.
– Attach a jump ring and chain for your necklace.
All done!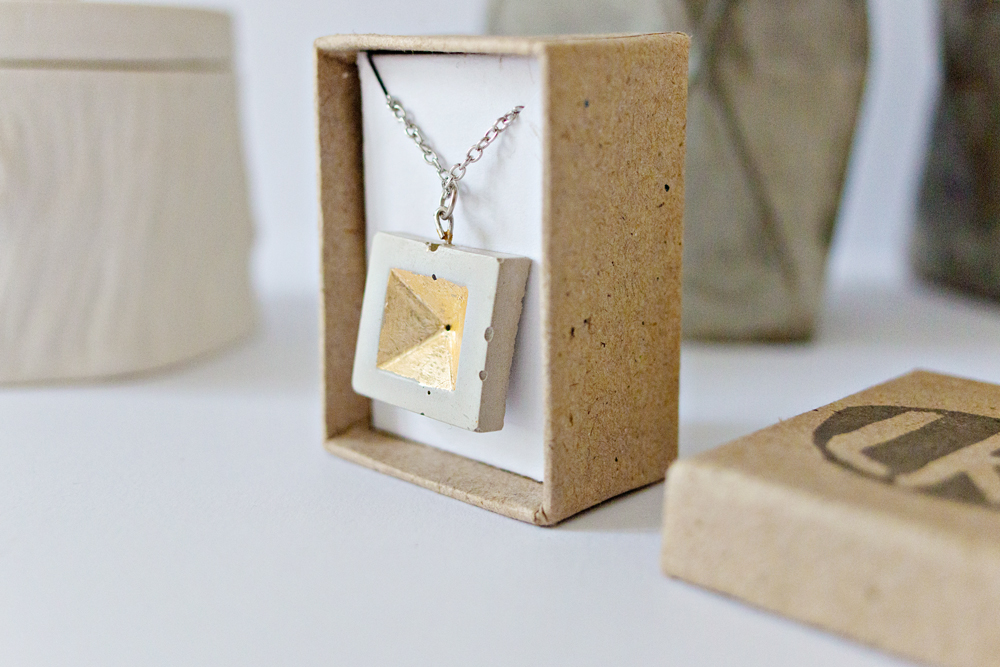 I love that not one piece looks the same, giving it a unique quality. And I also made a few others with different molds, so you can also experiment with different shapes and see how they will turn out.
This really is a fun project if you like to experiment with a new material, I highly recommend trying it:)
Thank you for stopping by! And as I mentioned in the beginning of this post, I also just started to sell some of my favourite DIY products in my own LRS Shop!
They are all products that I created for this blog as a part of a Do-It-Yourself project. This means that you can either make one yourself with the help of my tutorial or purchase the final result in my Etsy store.