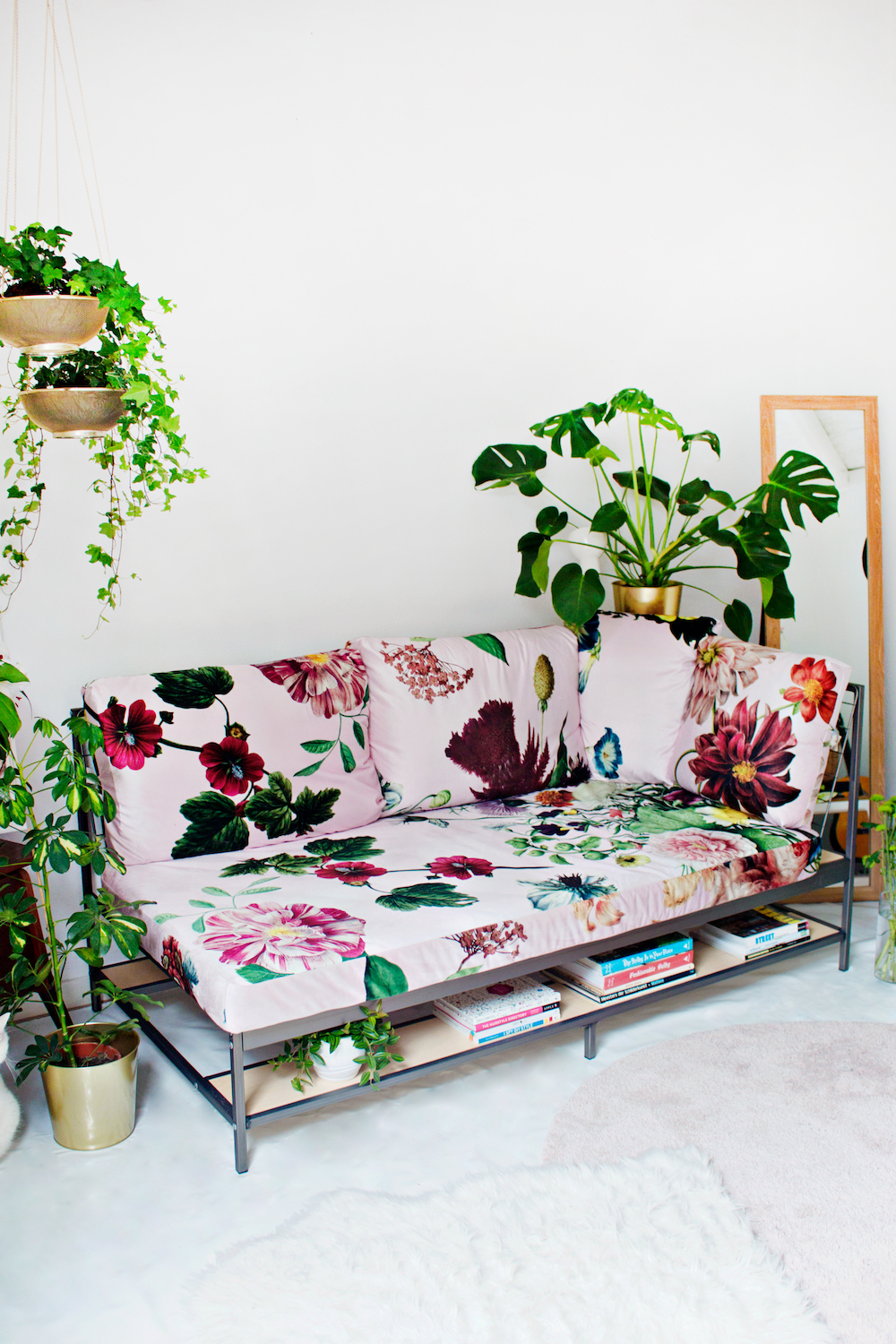 Yes, the day has finally come where it actually isn't hard or way expensive to give your living room a giant DIY update! And what is the biggest statement piece in most living rooms: The Sofa!
It has been bugging me for years that whenever I moved to a new place I could basically make anything I needed by myself on a budget. However, making a sofa from scratch is still a pretty tricky and often expensive thing to do (especially if you have a specific design in mind, like I do).  And re-upholstering still frightens me, especially because I am so afraid of doing it wrong and having ruined expensive fabric in the process.
Which is why I did a happy dance when I spotted this Ekebol couch at Ikea. It has removable cushions! So goodbye heavy tools and hello sewing machine!
Why it's a game changer:
It's perfect for my tiny studio (there is a home-tour coming up on the blog soon!)
The cushions are removable!
It has shelves all around
It could be used as a guest bed
The shape makes it look less big in a tiny home
And I can go on like this for a while (I am not sponsored btw, I just really love it!)
The only downside to the sofa is also my biggest frustration when it comes to the current home-decor trends in stores: 'safe' fabrics. Prints are making a small comeback since the seventies, but for some reason sofa fabrics are still mostly available in boring beige and grey. There are exceptions, but they usually are way over my budget.
The first thing that I did after buying the sofa was contacting my all-time favourite company: Spoonflower. I remembered that they offer velvet fabric and that was perfect for my sofa DIY project! They quickly got on board and made me the happiest DIY blogger in the world!
I once again used the Rijksmuseum archive to create a collage out of their online art collection. The entire collection is rights free and you can download all of the artwork in high ress. quality. This time, I wanted to go for giant flowers and embraced soft pink as a background.
Always being on a budget, I want to mention that I was very surprised by how affordable printing your own fabric is nowadays. I am collaborating with Spoonflower, but this statement truly comes from being a classical Dutch (aka cheapo) person. As stated before, I have been looking for the perfect sofa for years and the total costs of the sofa and the fabric is about the same amount of a buying a regular (beige;)) decent priced couch. (I think that the total costs were around €600,-)
Are your ready to make your own custom Ikea hack sofa? Scroll down for the full project!
RESTYLE DIY | Custom Sofa Fabric Design
---
SUPPLIES
---
– Measuring Tape
– Scissors
– Sewing Machine
– Needle & Thread
– Pins
– Fabric (You can design your own fabric!!)
---
FABRIC DESIGN
---
Before we start:
Designing your own fabric. There are multiple ways to design fabric:
– Repeating print-  You design one square of artwork and have this square repeated across the entire fabric.
– 'Life Size' print – This is what I made. It means that you will have to design the fabric in it's 'true size'. So if your sofa cushion is 100cm by 100cm, the design file has to be made in 100cm by 100cm. I love this way of designing, because you can calculate which part of the print goes where. It does however require a fast computer, because in te end you will have to export an extremely large file and upload it to order the custom fabric.
Copying an existing sewing pattern:
– The reason why I bought this sofa, is because it has removable cushions. This tutorial is made with that in mind. If you want to re-upholster your sofa, you can follow the fabric design steps in this project. For the upholstery I suggest that you read the 'Do It Yourself Divas' blogpost on this subject. Which has an excellent tutorial on how to reupholster your sofa.
STEP 1 – Measuring
– Remove* all of the sofa covers and flip them inside out.
– Write down all of the cushions dimensions by placing your tape measure on all of the seams.
*My sofa has removable covers with a zipper, making it easy to remove the covers. If your sofa cushions don't have any zippers, carefully open up one seam and flip the cover inside out.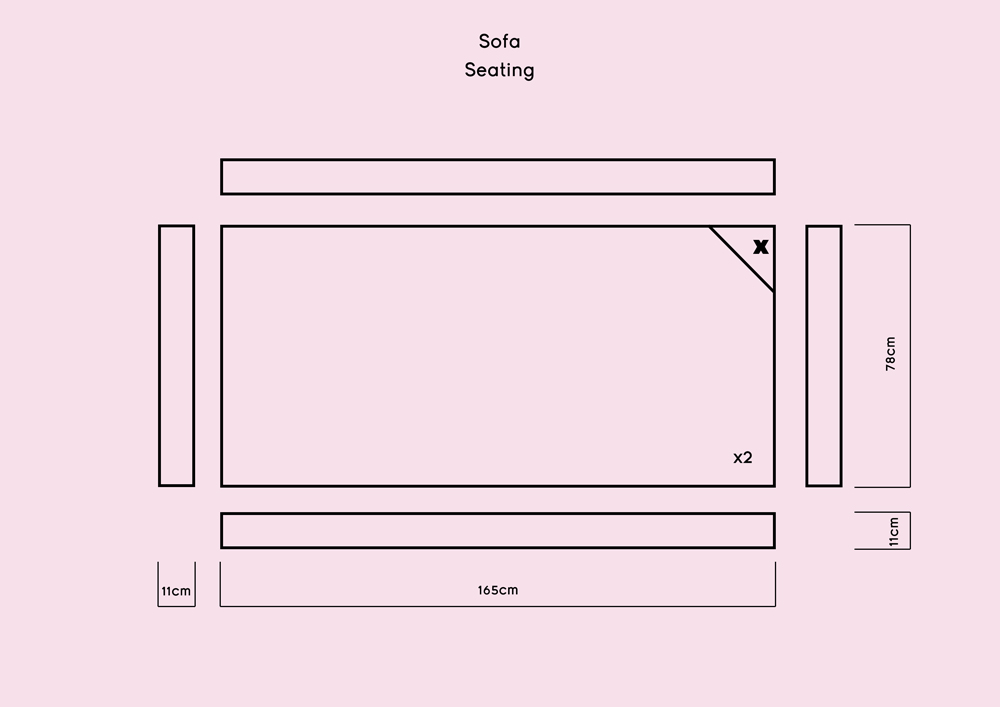 STEP 2 – Digital outline
– Once you have measured all of the cushions seams, use those numbers to create small technical drawings* for the outlines of the cushions.
* I advice to make these drawings digitally for the next few steps. You can use programs like Photoshop, Paint or even Word to create them.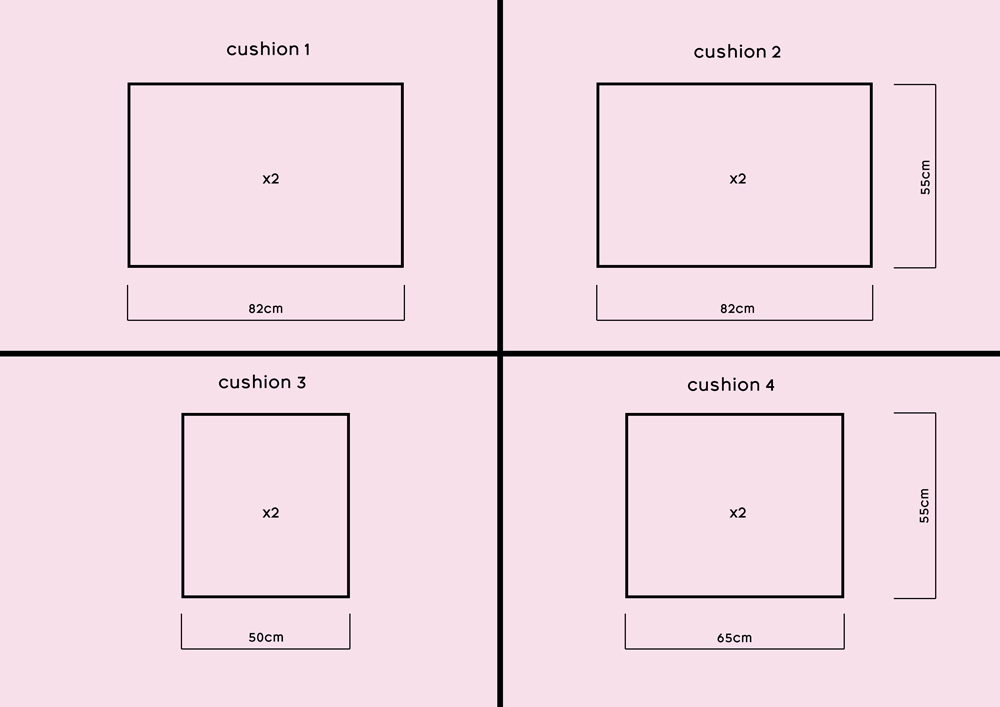 STEP 3 – Digital outline
– Make an outline drawing for each individual cushion.
– If you are designing your own 'life sized' fabric print like I did, you will want to create a file with all of the actual dimensions. Making it easier to design and order the fabric later on.
– If you are designing a repeating pattern, or are using a store-bought fabric, you will only need the dimensions to calculate the amount of fabric that you will need.
STEP 4 – Fabric 
– Design your own fabric! (or buy one, or repurpose old materials!)
– This is the third DIY project where I am designing my own fabric and it truly is an addiction! For my design, I used the Rijksmuseum database and turned floral artworks into a textile collage.

STEP 5 – Custom Fabric
– Before your buy or design your fabric, you will need to know the amount needed.
– The digital designs that you made in steps 2 and 3, will make this very easy! Simply place the cushion outlines in one file, side by side. And you can calculate how much yards/cm of fabric you will need. (don't forget to add seam allowance!)
– If you are designing your own 'life size' fabric print, this step is also perfect to finalise the design and let's you choose which part of the print goes where.
For this project, I collaborated with the amazing Spoonflower and they printed my design on the richest softest velvet fabric! The flowers, the pink and the velvet go together so well, I just couldn't stop touching it when it was delivered at my home :)
---
SOFA DESIGN
---
STEP 1
– Use your measurements made in the previous steps and cut all of the pieces of fabric needed for each cushion.
STEP 2
– Place your fabric -wrong side out- around each cushion.
– Use your pins to create the cushions outline. The fabric should be pretty tight around the cushions.
– Leave one side open.
– Remove the pinned fabric from the cushion, through the open side.
– Sew all of the pinned lines.
STEP 3
– Flip the sewn fabric -right side out-.
– Place the cushion in the new cushion cover.
– Fold the edges of the opening inwards and keep it in place with a few pins.
– Use your needle and thread to close to the opening with an invisible stitch.
What I love most about this sofa DIY project
You can make your biggest designing project, your homes statement piece
Add extra cushions on the sofa for a fun mix and match of prints
No need to get a new sofa in a few years, just design your new favourite project and sew new cushion covers!
CREDITS
– Velvet Fabric – Design by LRS in collaboration with Spoonflower
– Sofa – by Ikea
– Hanging Planters – by LRS (DIY project coming soon!)
– Rugs – by Ikea
– Floral Framed Artwork – by LRS and Spoonflower
– Portrait Artwork – by Piet en Kees
This blogpost is an original LRS Project.