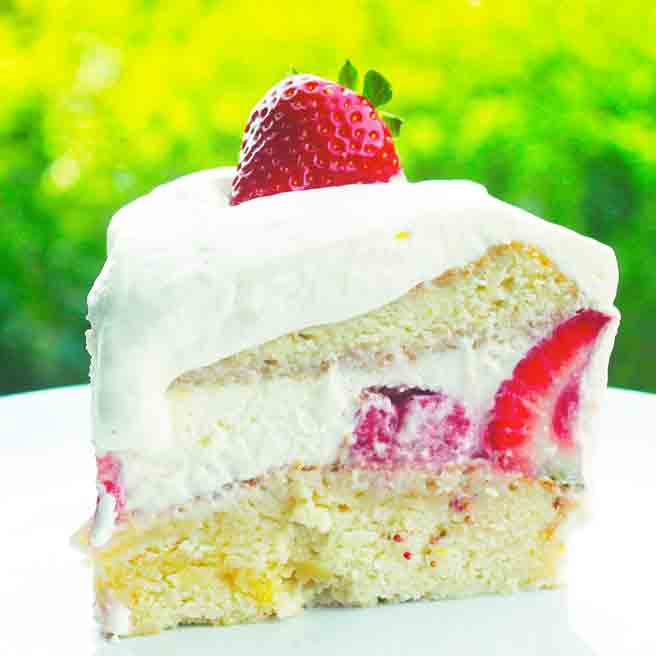 Remember me talking about my sweet tooth weekend yesterday? Well here is part 2! After baking some

Peanut Butter Cookies

yesterday, I decided to go bigger and maybe even better ;)
I searched the internet for some cake recipes and found a lot of delicious looking cakes. I never really baked a proper cake, so I really wanted to make a layer cake because those to me are the 'real deal'. And since strawberries are on sale right now, I figured I better use them! I found a recipe on

Chow

 and it came really close to what I was looking for. I altered the recipe a bit and am very proud to say that my first cake was a big success!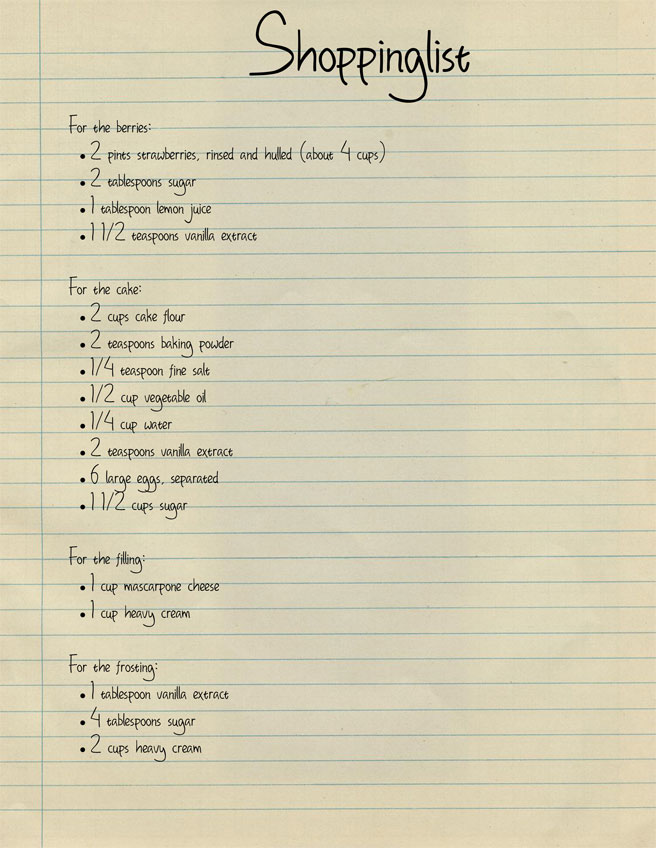 Combine all ingredients in a mixing bowl and toss to thoroughly coat strawberries. Let sit at room temperature at least 20 minutes before using.
Heat oven to 175°C. Butter and flour two 10-inch cake pans (or if you only have one like me, use one cake pan and divide the cake batter in half and bake two cakes separately). Sift flour, baking powder, and salt together into a mixing bowl; set aside.

Combine vegetable oil, water, vanilla extract, egg yolks, and 1 1/4 cups of the sugar. Whip on medium speed, until mixture is airy and light in color, about 5 to 7 minutes. Add the dry ingredients and whip until smooth.

In a clean bowl, whip egg whites to medium peaks. Add remaining 1/4 cup sugar and continue whipping until stiff peaks form. Using a spatula, fold 1/4 of the egg whites into the cake batter until evenly incorporated; gently fold in remaining egg whites until just combined.

Divide batter between prepared cake pans. Bake until surface of cakes springs back when pressed and a toothpick or cake tester inserted into the center comes out clean, about 25 minutes. Remove cakes from the oven, and let cool 15 minutes. Meanwhile, make the filling and the frosting.
Combine mascarpone cheese and cream in the bowl and whip until stiff peaks form, about 2 minutes. Cover and refrigerate until ready to use.
Combine vanilla extract, sugar, and heavy cream in a bowl and whip at medium speed until medium peaks form, about 2 minutes.

Cover and refrigerate until well chilled, at least one hour. (The frosting can be prepared up to 12 hours ahead.)
Evenly spread 1/4 of the mascarpone filling over the cut side of the bottom cake layer. Arrange strawberries standing upright over the mascarpone layer. Cover the strawberries with the remaining filling, being sure to fill in any empty space.

Place second cake layer over mascarpone and strawberries, pressing gently to secure it. Using an offset spatula or a long, thin spatula, spread 3/4 cup of the frosting in a thin layer over the top and sides of the cake. Return remaining frosting and cake to the refrigerator until frosting on cake is set, about 15 minutes.

Spread the remaining frosting all over the top and sides of the cake. Let sit in the refrigerator at least 15 minutes before serving.