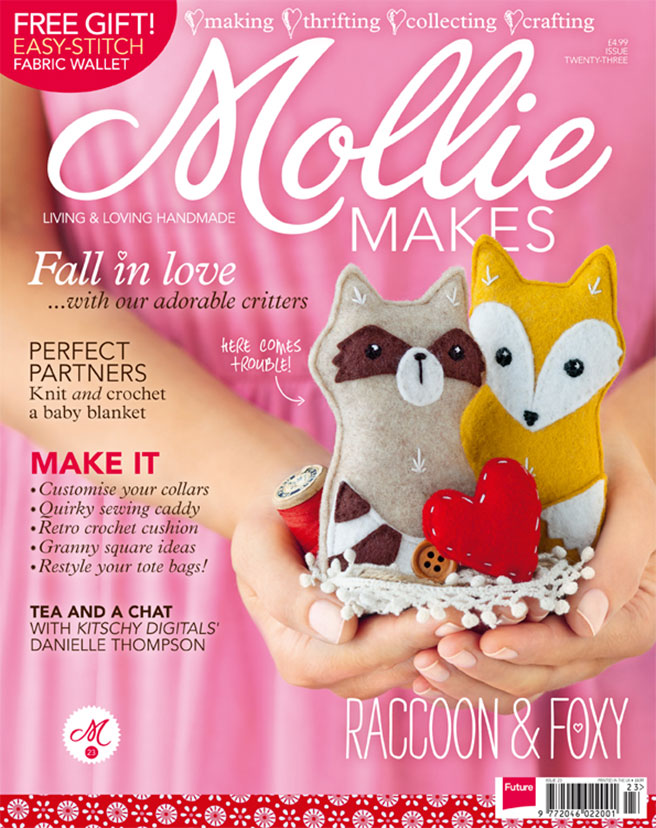 I am so excited about this!

Mollie Makes Magazine

is featuring one of my tutorials in their newest issue! I haven't seen it myself yet, so I am still waiting every morning by the front door for the mailman to drop it of :) But I am feeling so lucky to be in this amazing magazine!
The Magazine is in stores now, so be sure to

check it out

! And I will write an update as soon as I am holding it in my hands!
Here is a little something about Mollie Makes:
'Mollie Makes is published thirteen times a year. They curate the best craft from around the world into a tactile, collectable and totally irresistible magazine.
They love to make – handmade is more than just a hobby for them, it's in everything they do. 
They can't resist hunting down treasures in thrift stores, then customising, re-covering and embellishing their finds with their endless stash of ribbons, buttons, fabrics and felt.
They are forever on the lookout for new inspiration. Whatever they do, the're living and loving handmade.' 
~ Making ~ Thrifting ~ Collecting ~ Crafting