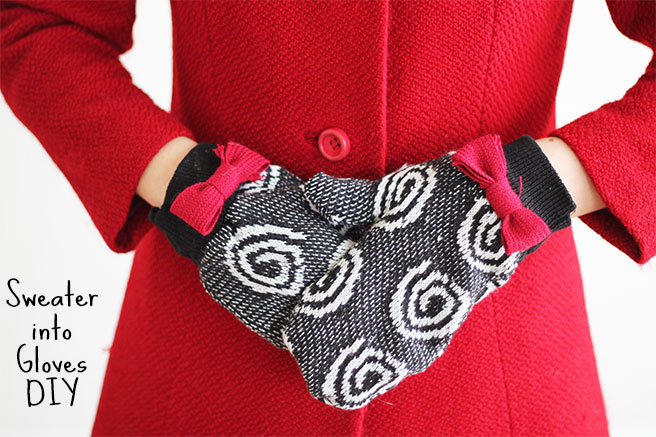 Remember my

Upcycled Sweater Bag

? Well, I still had some fabric left and thought it would be perfect to use for another winter project. So today I am showing you how to make these lovely gloves from old sweaters!
It's really very easy, and you can mix and match with different sweaters!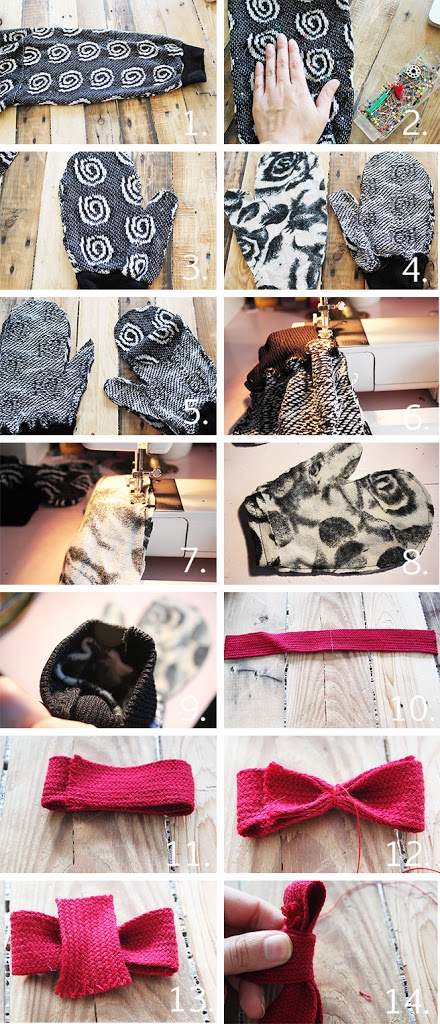 1. Take your old sweater en lay the arm-part n a flat surface.
2. Place your hand on the arm-part with your wrist on the ending. Trace your hand with about an inch extra, and pin both the layers together.
3. Repeat this with your other hand.
4. Do the same for the lining, with a different sweater.
5. Place the pieces (inside towards each other!) on top of each other, like shown in the picture.
7. Do the step 5 and 6 also for the lining.
8. Fold the edge of the lining to the wrong side and sew it.(see picture if not clear)
9. Place the lining in the outer glove and stitch the wrist part, to secure them together.
10. Take a piece of ribbon for the bow. 
11. Fold both the outer sides to the middle.
12. Wrap a piece of thread around it.
13. Take a small piece of ribbon for the middle part.
14. Wrap the small part around the middle and sew the back part.