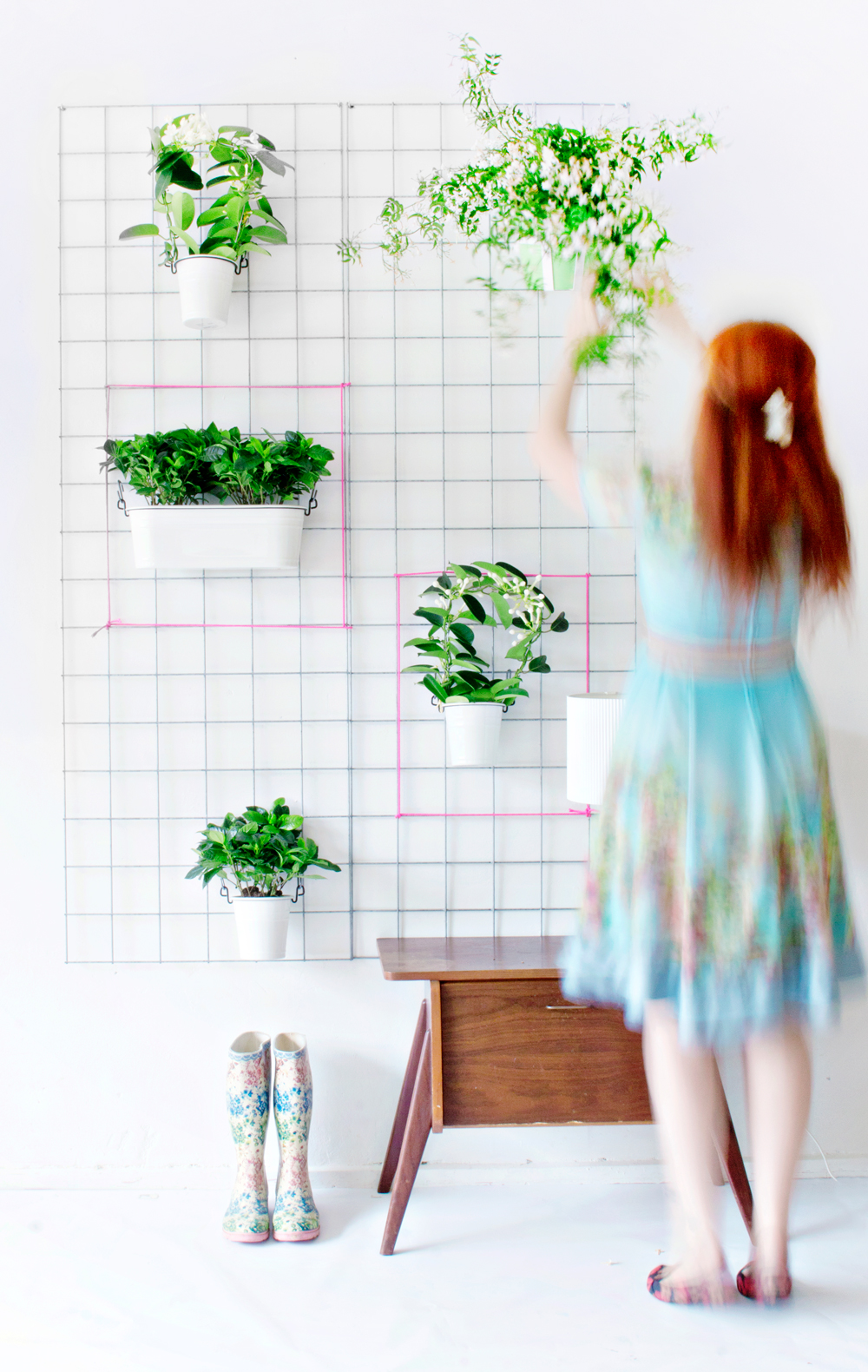 In case you missed it: plants are thé home decor accessory of 2016. Pinterest is booming and people are loving the green items filling their homes. I am also very much in love with this trend and embraced it with a giant statement wall DIY!
I collaborated with mooiwatplantendoen.nl (thejoyofplants.co.uk) and represent the Flower of the Month: White Fragrant Plants.
Can you imagine: collaborating with a company that is all about flowers?! I certainly danced around at the news;)
And if things couldn't get better, the plants really do smell amazing!
The plants arrived a while ago and ever since I started working on this DIY my home is filled with smells that can only remind me of a warm spring day.
About the DIY: I started a Pinterest board that is all about Green 2 months ago, and I have been looking for inspiration on incorporating plants in DIY projects. Thejoyofplants.co.uk already has an amazing database of plant tutorials. So I was really looking for something original, but also something that is adjustable to everybody's home, whether your house is small, big, temporary, etc.
This vertical wall plant system was the perfect solution! The steel mesh comes in a great variety of shapes and sizes, and you can hang it on the wall, use it as a room divider or place it on top of a flat surface if you are not able to drill holes in your walls.
It is also perfect to decorate according to taste: keep it minimal, add a touch of colour, or fill it with personal items. The options are endless!
As you can see, I am very excited! And looking at it in my house always brings a smile to my face, because it is BIG, but it doesn't feel like it. It also doesn't take up any space in the room, since it is on the wall.
Excited?!
Well embrace yourself for a little bit more excitement, because this DIY is also available on video! This is a LRS first: a DIY video!! Woohoo!
So take your pick: video or, photo, or both, go crazy! ;)
Here is the Video DIY:
PHOTO DIY: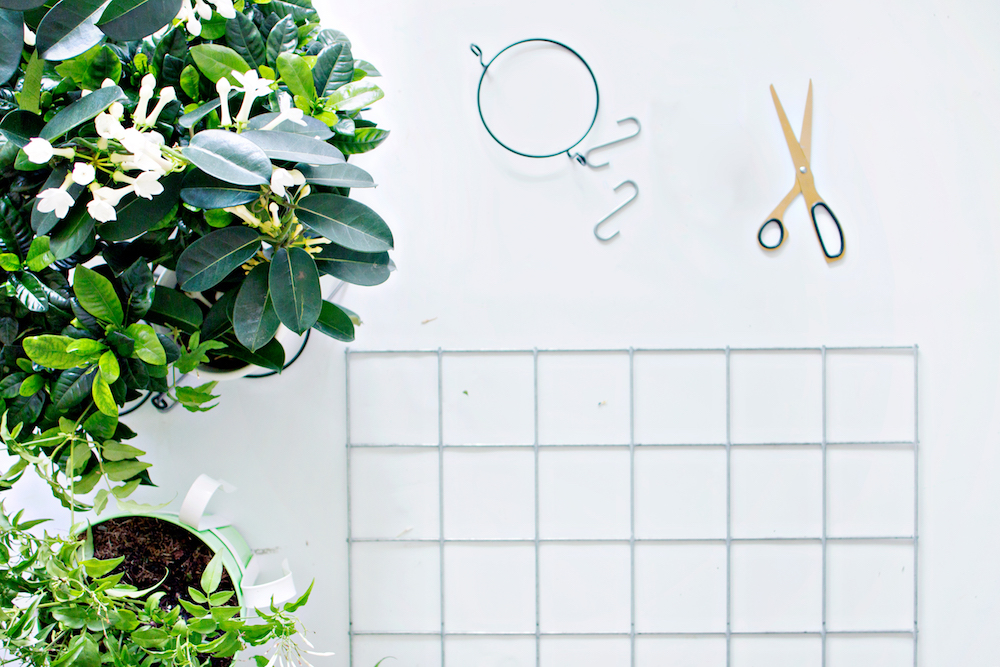 SUPPLIES
– Plants. I used 3 different plants:
– Gardenia
– Stephanotis
– Jasmine
– Steel Mesh ( I bought mine at the local gardenstore, they come in a variety of colours and sizes and are perfect for this low budget project)
– Hanging Pots (The pots used in this tutorial are from Ikea, and originally used in the kitchen)
– Hooks (from Ikea)
* Optional – Neon coloured rope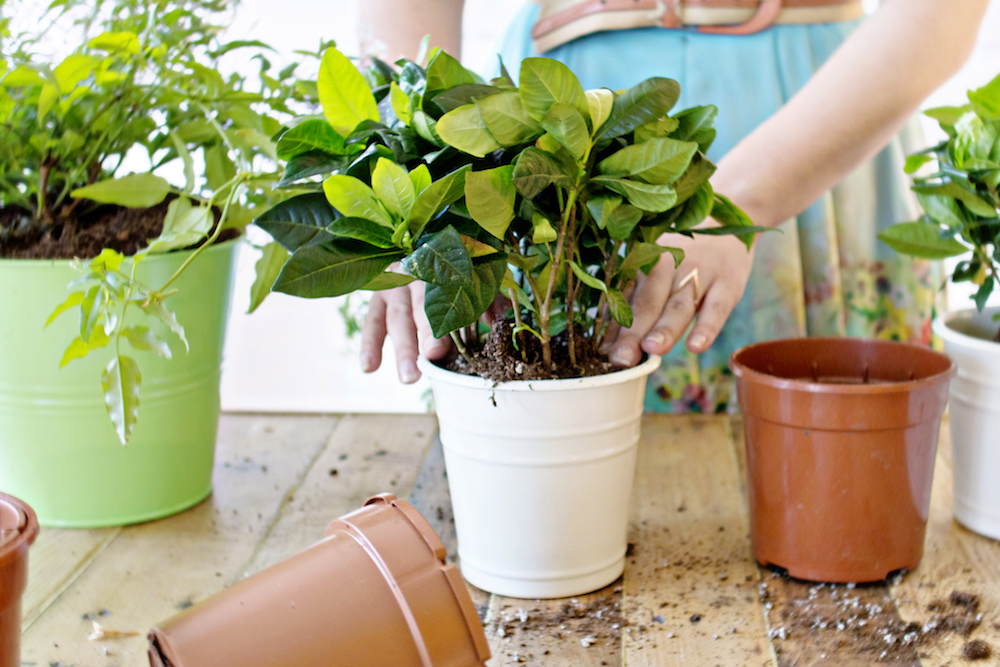 STEP 1
– Pot the plants. Be very careful not to damage the roots and if necessary add a little bit of extra soil.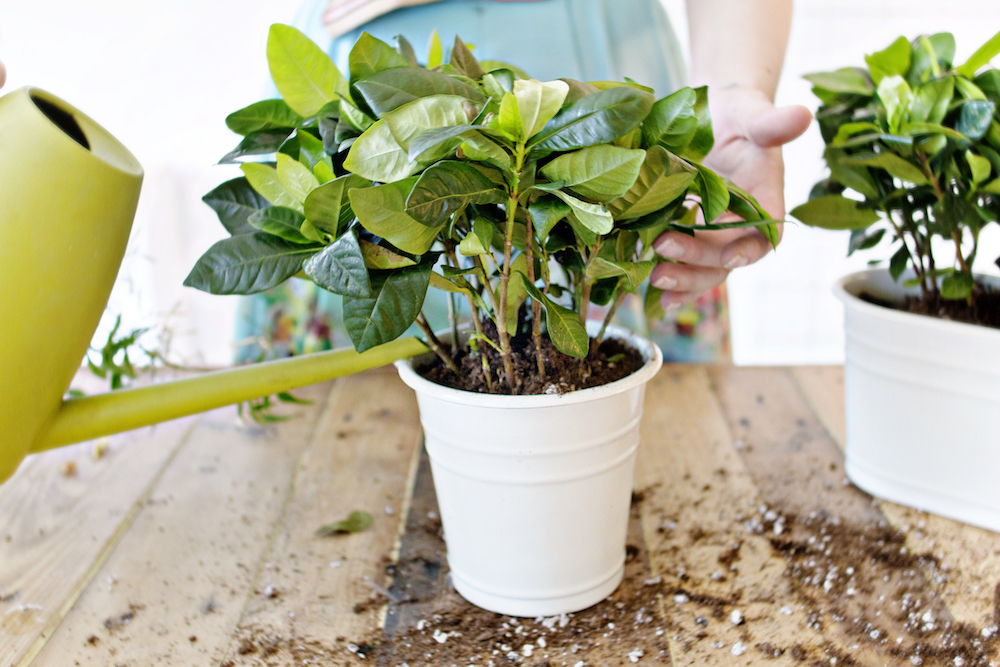 STEP 2
– Water all of the plants after repotting them.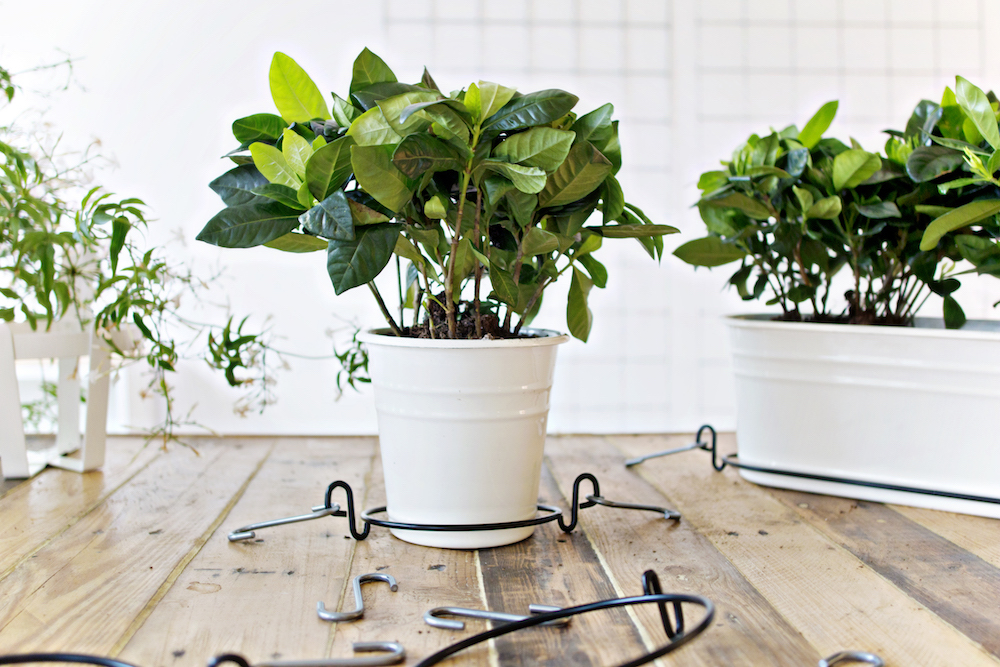 STEP 3
– Attach the rings and hooks to the pot.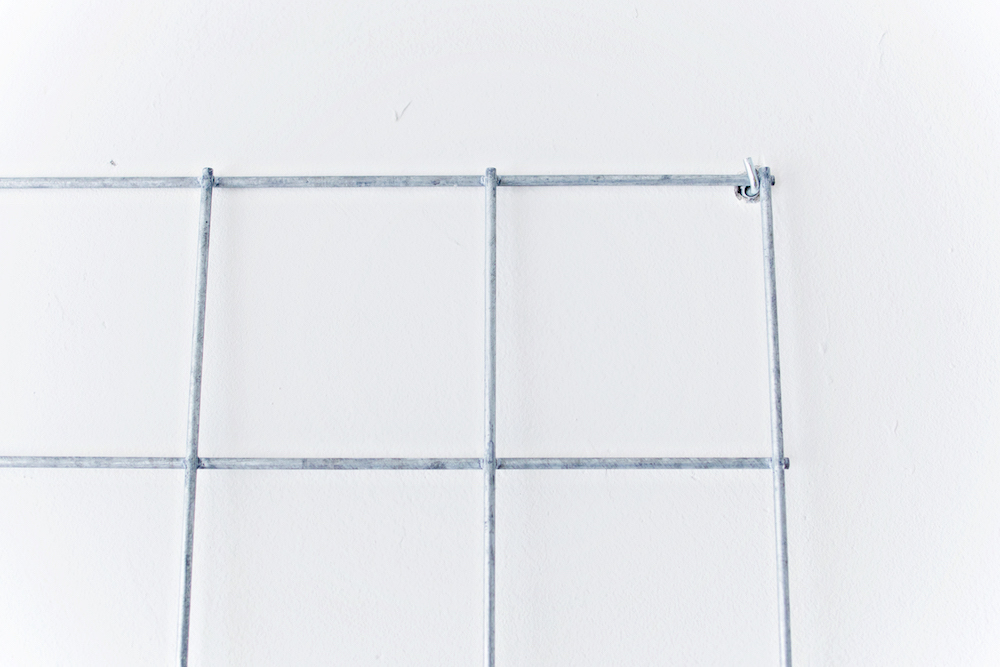 STEP 4
– Place the rack/mesh on the wall or on a flat surface, depending on your choice of presentation.
– If you choose to hang the mesh on the wall, check to see what type of foundation your wall has (plaster, wood, etc.) and buy the right supplies* needed.
* I choose to drill a hole in the wall and added a wall plug before screwing in a 'hook screw' to hang the mash on the wall. More information about hanging heavy items on the wall can be found here.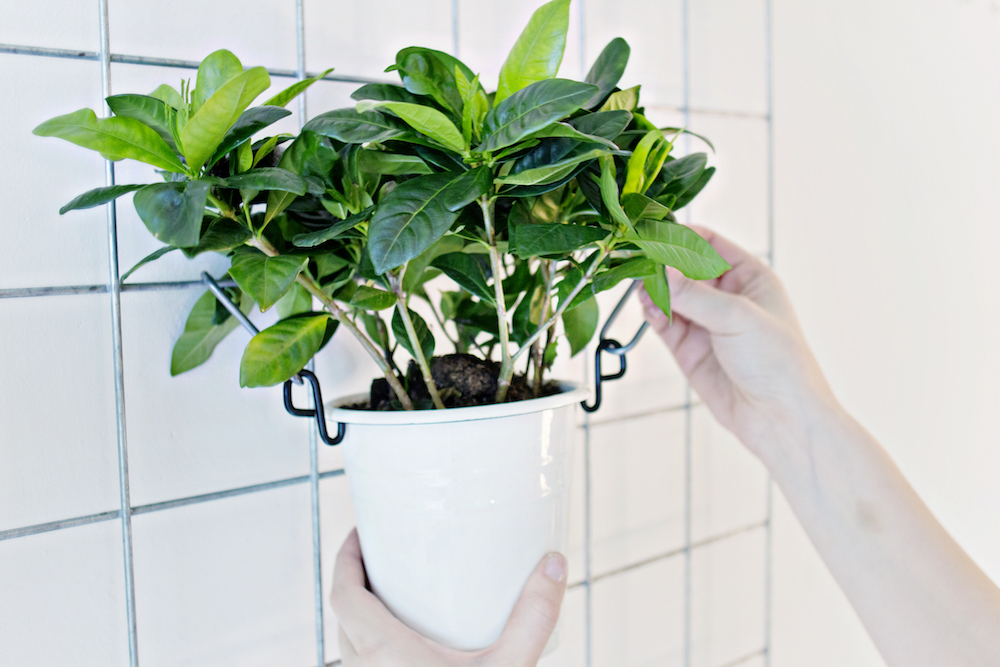 STEP 5
– Hang the pots onto the rack. Mix and match different pots and plants.
Style tip: Decorate the empty spaces with artwork, memorabilia, notes and other fun personal items to create a statement wall
* Optional – Decorate the rack with neon coloured rope around the plants. This wall add a splash of colour and shows you when the plant has grown.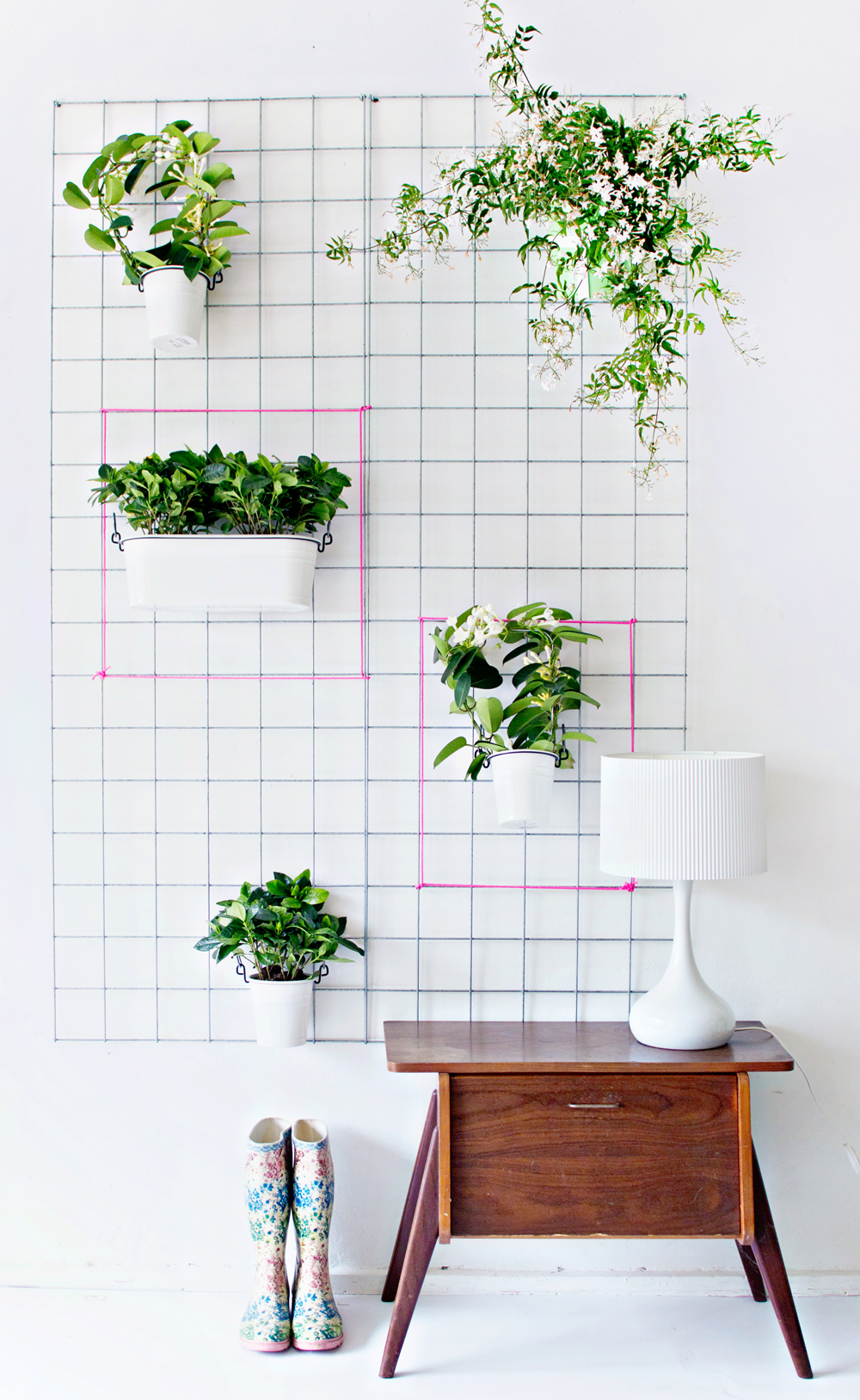 Small space in your home or living in a studio apartment? Use this tutorial as a room divider! Create a private space by adding as many plants as you want to cover the entire surface or keep it open by spreading the plants.
Want to add more personality? Fill the empty spaces with memorabilia, such as: picture frames, drawings, cards, personal notes and candles. The possibly are endless and you can change it as often as you like!
Lana Red Studio Items used:
– Flower Printing DIY
– Book Print DIY
More information on how to take care of your white fragrant plants can be found on the website of thejoyofplants.co.uk.