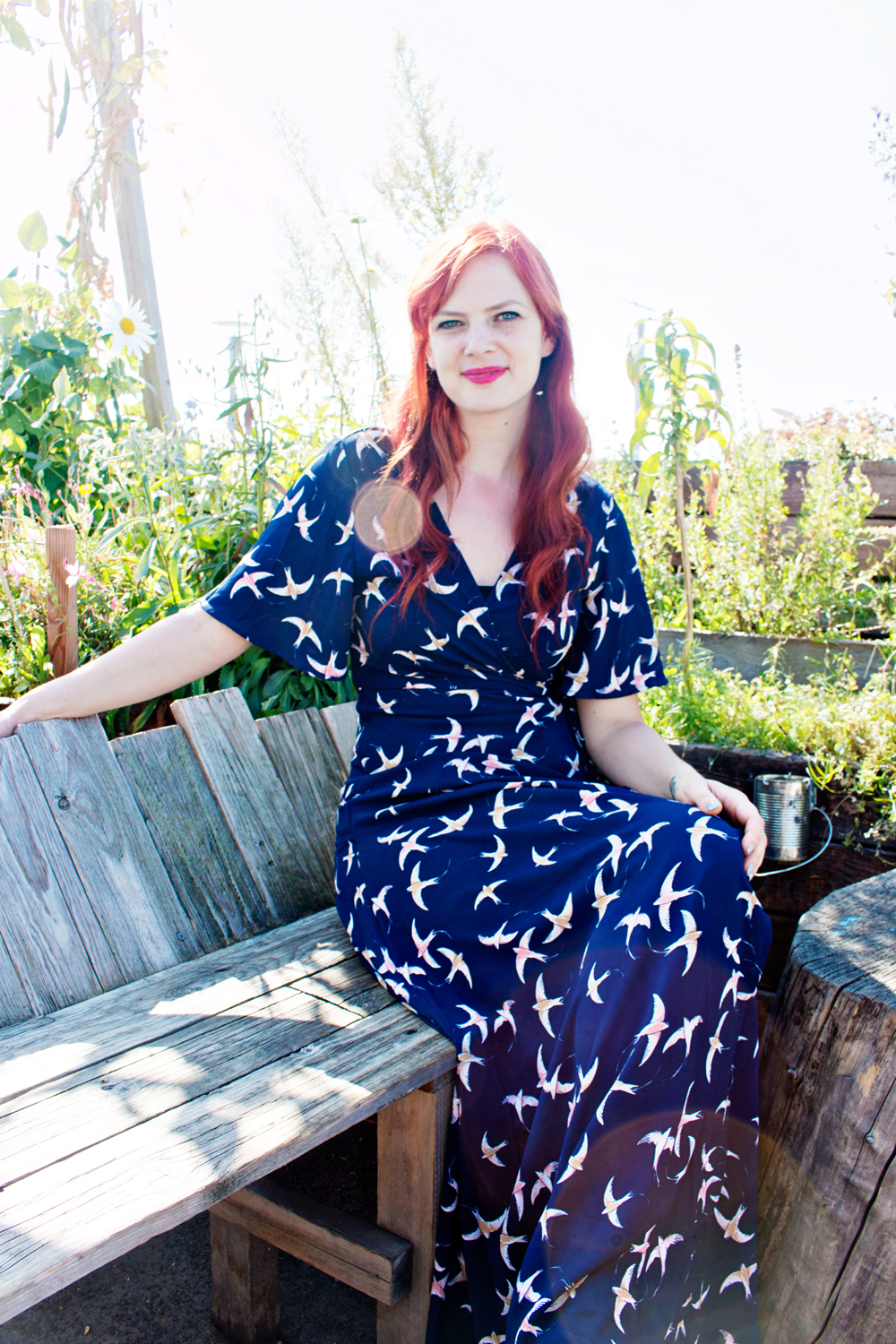 Get ready for a blogpost filled with photos of, well, me…;) a few personal thoughts, upcoming projects and last but not least: my new flowy dress soaking up the sun in Berlin!
Showing off this dress has not been a challenge, because the weather here in Berlin has been amazing! The sun has been shining all week and I have made many walks trough the city, exploring new places and enjoying the warmth. Long flowy dresses are always my go to pieces when it's very warm outside: easy and still stylish;)
Birds seem to be my theme this summer, after getting my dove cover up tattoo recently, I have been favouring items and images with birds on them (like this gorgeous photo by Alex Prager inspired by the movie 'The Birds'). So when I found this bird printed dress online it fit right into my bird obsession.
New projects
Speaking of new outfits, I have been in a real sewing vibe lately. After my doodle shirt DIY, I have made another tutorial involving a warp dress, yes! And I have started a very easy upcycling project involving a thrifted blouse. Both will be up on the blog pretty soon, so stay tuned!
The last few weeks have been very calm, which I really like. I had some projects lined up, but took my time making them and doing a few personal sewing challenges in between. Berlin is still treating me very well, I am falling in love with this city more and more each day and I wish that the summer would never end.
Besides working on projects, I have been walking a lot, reading in parks, visiting museums and exploring new coffee places to work from, since working by yourself from home can be pretty dull.
I have also been following some blogs regularly, I especially love reading about the home renovations of Elsie on A Beautiful Mess. And I am very inspired by the open and honest posts of Bri of Design Love Fest, besides having some amazing style posts, she also writes about here anxiety and is very open on having her not-so-good-days, which I find very refreshing from a popular blogger like her.
What have you been up to lately? And who are your favourite bloggers to read right now?
Let's all enjoy these last moments of summer, I know I will! Happy sunny days everyone! xx Lana
---
Bird print wrap dress by SheIn
Sandals by Zara
Purse by H&M
---
Photography by Barbara
Editing by Lana
Locations:
Klunkerkranich
Tempelhofer Feld