Welcome to my home! I have been looking forward to sharing my home with you for a while now and the day has finally come where I get to share my tiny studio apartment house tour!
Not only is this blogpost filled with a ton of photos, I also made a home tour video!!
Scroll down to see the video
Here is a tiny backstory: 2,5 Years ago, I got rid of almost all of my stuff and moved from Utrecht The Netherlands to Berlin Germany (you can find the full blogpost with more info here). One year ago, I decided to move back and found this small studio apartment in Utrecht. Because I didn't have any furniture (besides my bed that was in storage) I had to decorate the studio from scratch: perfect!It gave me the opportunity to come up with budget friendly ways to cleverly use the small space and really think about how to live in a tiny home in the best way possible.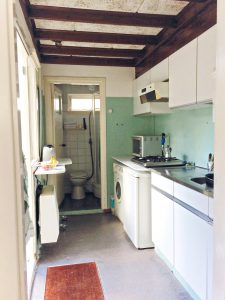 And since I found so much inspiration online when transforming the empty studio, I wanted to give back to the online community and share my home with you guys!
Here is some practical information:
– I live in Utrecht, The Netherlands (google maps)
– My home is approx. 30 square meters
– I have a small courtyard/garden (approx. 15 square meters)
– I share my home with 2 cats
I have to be honest with you: this is the tiniest home that I have ever had. Don't get me wrong, I love
the location and the fact that I don't have to share it with anyone, but I did have to get used to living in a one room apartment. Having that said, I love a challenge and decorating a small space was truly a joy!
Having moved from abroad, my budget was pretty low, which means that I had to get creative. The only thing that I did invest money in was the kitchen floor. I put in this white Ikea laminate. It made the space look so much brighter and cleaner and I am very happy that I did!
The greatest thing about the apartment is that it has a small courtyard type garden. It really adds to making the living space seem larger and it allows the cats to go outside. Which was perfect, because I don't think that we would have survived to live together on such small quarters;)
Are your ready for way to many pics for such a small studio + a special home tour video?
Scroll down for the full tour!
STUDIO APARTMENT | House Tour
---
VIDEO
---
---
PHOTOS
You can few the video above for the full tour. Here is the tour in pictures.
There will be a separate blogpost including 10 tips on how to decorate your small apartment. So keep your eye out on the blog for some extra tips!

SLEEPING AREA
I got very lucky with the layout of the apartment. Because it has an L-shape floorplan, it allowed to me to create a sleeping area that really feels like a 'separate' space. To separate the bed from the main space, I added sheer curtains and two open cabinets which functions as a room divider.
Because of all of my clothes and craft supplies, I wanted to have a big closet which would function as my main storage space unit. I build this open closet, which holds most of my stuff and kept it open, because it makes the space look more spacious.


LIVING AREA
Separated by the double room divider, you will find the living room area. It has a folding table, cabinet, sofa, two carpets and reading nook.
The sofa was the best purchase: because it is a lounge model, it makes the room look larger. I added a floral fabric to give it a personal touch. You can few the full project here.
KITCHEN
The kitchen is pretty large for such a small studio. It has lots of storage space and I added this drawer shelve for more storage. The disco ball is probably my favourite item in the kitchen:)
BATHROOM
The bathroom is really small and is the only thing that I am not very happy with in my studio apartment. The shower had doors in it, but that made showering pretty difficult because of the limited moving space. So I took the doors out (put them in storage) and added this shower curtain. This really made it so much better and it also looks great!
Thank you so much for stopping by! I hope that you enjoyed the home tour and maybe it gave you some inspiration for your home. If you have any questions please let me know in the comments section below!
---
CREDITS
– Sheer Curtains – Kwantum
– White open cabinets – Ikea
– Sofa – project by Lana Red Studio
– Drawer cabinet – project by Lana Red Studio
– Pink round carpet – Ikea
– Greenery round carpet – Kwantum
– Discoball – Hema
– Shower curtain – H&M
– Kitchen Carpet – Kwantum
– Star Light – Hema
– Candle Wax Light – project by Lana Red Studio
– Audio Speaker – Tivoli Audio
– Hanging Planters – project by Lana Red Studio
– Fish Vase – Flying Tiger
– Green Curtains – H&M
– Jewelry – Shop Lana Red Studio
– Neon Heart Light – Kwantum
Did you spot something that is not in this list? Mention it in the comments section and I will get back to you as soon as possible!
This blogpost is an original LRS Project.